Mobile Working
C-Suite Talk Fav Tech: Ariane Gorin, Expedia.com Ltd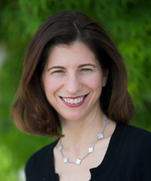 Name: Ariane Gorin
Job title: Senior Vice President and General Manager, Expedia Affiliate Network brand
Company: Expedia.com Ltd
Location: London
Years' of experience: 20
What is your favourite personal gadget?
My iPad – it's great for catching up on the news, listening to my favourite music, and contacting my family via FaceTime.
Do you have a favourite piece of personal software?
I'm a huge fan of The New York Times' crossword iPad app – though I have a hard time completing the puzzles in the later days of the week as they get harder. Another favourite of mine is the Headspace app for its guided meditation. The app is great for calming the mind after a long, busy day in the office.
What was the first piece of technology you got really excited about?
The game of centipede on our Commodore 64. My sisters and I used to play for hours, taking turns and passing around the joystick.
What device improves your life most at work?
Definitely my iPhone. I travel a lot for work, so being able to work on the go is important. My three most frequently used iPhone apps are the Egencia app to manage my flights, the Concur app to manage my expenses (and approvals), and the Heathrow Express app for all of the back and forth to Heathrow airport.
What software keeps you most productive at work?
Microsoft OneNote. I've used it to take notes in almost all of my meetings in my nearly four years at Expedia (and previously when I was at Microsoft – though I was a bit biased as I worked for Microsoft's Office Division). I love the search functionality that allows me to easily find references to specific business topics – it saves time and makes me more effective as a business leader.
Is there any technology that has become extinct that you would like to resurrect?
I had a pink Nokia flip phone years ago, which I loved. I'm sure I could find one again if I searched hard enough, but there wouldn't be any apps so I wouldn't use it.
Is there any technology you would personally recommend that you don't think enough people know about? (Hardware or software, work or personal)
I would have to say My Canary home security device which tracks the activity at our front door at home, and which I can watch at a distance on my iPhone. Getting live feeds from the front door is extra reassurance that all is fine at home especially when I'm traveling and away from my children.
Do you think anything about your personal use of tech would surprise your colleagues?
I've become addicted to Pokémon Go. My children used to give me a hard time for travelling so much for work, but now that I catch Pokémon for them in distant countries they are much more supportive of my travels.