Human Resources
Typical 24: Stefano Maruzzi, GoDaddy
IDG Connect is looking to speak to IT, business and marketing professionals across the spectrum to discover more about their very different, typical working days…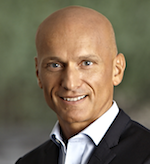 Name: Stefano Maruzzi
Job title: Vice President EMEA
Company: GoDaddy
Location: United Kingdom, London
Years' experience: 27
1. What time do you reach the office each day?
These days I work in multiple offices in multiple locations. At this exact moment, I'm in Kirkland, Washington, facing downtown Seattle. More frequently I'm in London, but I also work in Scottsdale, Arizona and Belfast, Ireland. My work is disconnected from a physical location and is very flexible daily. In general, I start very early in the morning (I wake up at 5:00 am), focusing on local matters while afternoons and evenings are dedicated to interactions with the US.
2. Is your job varied?
The International team of GoDaddy is very young and almost comparable to a start-up. The geographical side represents an element of diversity. It is an exciting challenge and constantly forces me outside my comfort zone, which is something I find energising and inspiring.
3. Is your job creative?
Business is creative by definition. Entrepreneurs are creative people, as are managers to a certain extent. Hitting quarterly sales targets requires executional discipline, business acumen and proven leadership. At the same time, determining new and smarter ways to service our small business customers and optimise internal processes are two examples of what I consider to be the creative side of any managerial role.
4. What do you spend the majority of your time doing?
I'm regularly involved in a wide set of initiatives. GoDaddy is currently transitioning from a US centric organisation to a more distributed model where the geographic component has a stronger and more relevant role. Optimizing operations in a different way and ensuring this evolutionary path involves everyone and includes contributions of every portion of the organisation. This is vital to ensure participation, collaboration, and is the definition of a common vision.
5. Do you personalise your desk?
Not the physical desk, but I'm very picky with my hardware and software configurations since I rely on these to be productive, interact with people and run the business. My MacBook, iPhone, and several cloud extensions form my "desk", where I live and work each day.
6. Would you describe yourself as creative?
Not in the real sense of the term. Nevertheless, I consider myself a very attentive person, very curious and with a good ability to retain, absorb, and process information. According to my personal standards, that's synonymous with being creative.
7. Do you have any quirky daily rituals?
My daily routine includes running 10km early in the morning listening to tech podcasts. Being passionate about technology, I end the day by reading tech news on my iPad.
8. Do you tend to work on your own or with colleagues?
I constantly interact with people across multiple locations internal and external to GoDaddy. It is what I consider "the New Normal" nowadays and I couldn't envision anything different. Whilst organisational hierarchies still exist, I envision a new model where everyone acts as a super specialised individual contributor, adding something to the overall picture, and benefitting more by interacting with other people across the industry.
9. How many hours on average do you work a day?
I do not really count them. I would guess more than 10 during the week and 2-3 on weekends. My week is quite long and intense, but also rewarding. The majority of what I work on is pleasant and I'm fortunate to deal with smart and talented colleagues and partners.
10. Roughly how much time do you spend each day on email? Taking calls? In meetings?
My workday is split between interacting with people and analysing data to better drive the business forward. I want meetings to be short, very focused and with a small number of attendees: experience taught me that this is the most effective way of optimising time.
11. Do you use social media much for work?
Sometimes. LinkedIn is the business platform I use when preparing for meetings with external people. I check Facebook to monitor our interactions with customers and Twitter is primarily a source of valuable data-points in the area of media, business trends and general technology.
12. What do you enjoy most about your work?
I most enjoy the variety and solving complex issues. GoDaddy's vision to empower small businesses all over the world is very simple, but ambitious at the same time. There's so much that can be done and improved by embracing technology in general and through software in particularly. Every day is a challenge and source of inspiration for new ideas and ventures. Monotony and repetition is not part of our vocabulary.
13. What type of music (if any) do you listen to at work? My favourite genre is Alternative, but I have recently started to appreciate Techno. I regularly buy music from iTunes and get inspiration from my daughters. We share our libraries thanks to iTunes Match, a fantastic solution to have all our devices up to date and for me to explore music I wouldn't normally listen to on my own.
14. What do you do for lunch?
Lunch is another vague and morphing concept for me. I tend to eat small quantities of food throughout the day, having a traditional, more structured lunch only when having meetings with external partners.
15. Do you socialise with work colleagues?
Relatively. I share a passion for digital photography with a colleague in the US. More broadly, the working environment here at GoDaddy is really friendly and amicable. Every time we meet together we have fun and enjoy ourselves.
16. Are there any tasks (through your career) you've been especially glad to get rid of?
I always hated doing expense reports but - at the same time - didn't want to delegate it to my assistants for the same reason. Only recently have I found a solution that makes this activity less boring and time consuming - thanks to a set of services and interactions among devices that simplify the entire process, reducing it to the bare minimum.
17. What is your last task of your day?
The first and the last is inevitably checking my email, the ultimate form of interactions with colleagues and partners in my ecosystem. I consider email super effective and a key component of my daily activities. To be clear, I love email! It is common to hear people complain about email, but I honestly don't get it. I personally hate commuting and being stuck in the traffic, while it is not uncommon to hear people say they like driving. I guess it is a matter of personal preference.
18. How do you like to relax after work?
Sports take up a good portion of my limited spare time. I recently developed a strong interest for digital photography and I read and watch tutorials on this subject. Being up to date on new technological evolutions is another form of entertainment.
19. Do you keep checking email through the evening?
Since the early days, I realised that an intrinsic consequence of working for a US company is the constant flow of emails reaching my inbox. I often check emails late at night, replying to urgent matters to ensure the organisation can move to the next interaction very quickly, without wasting almost an entire day.
20. Do you take work projects home with you?
The distinction between work and personal life, and even specific moments of the day (i.e. lunch, evenings, weekend, vacations) does not exist anymore. My daytime is organised in to tasks, both personal and professional. Each one implies interactions with other people, deadlines, research, deliverables and keeping to a schedule. That doesn't necessarily mean I work 24/7; it's a different interpretation of how tasks should be addressed and goals achieved. I like it and find it works well with my personal Weltanschauung.
21. What would you say to your 20-year old self?
I wish I was in the position to have a short, but intense and focused conversation with my 20 year-old self, although I'm not sure the two Stefanos would be able to communicate effectively and productively. That's an honest statement indicating how much I have changed since then, but at the same time a testament to the differences in the way we currently live compared to only few decades ago.
22. If you could try out any job for a day, what would you choose?
I have always been fascinated by the world of sports. Working for successful teams or events seems like the ideal job, where passion, technology, content and creativity do not necessarily need to go hand in hand.
23. What device did you use to answer these questions?
My MacBook Pro, the only tool capable of helping me being productive. I know recently Tim Cook, Apple CEO, publicly stated that at least 80% of the personal workload should be addressed with an iPad. Not sure I share this vision; I consider tablets excellent devices to render content, but a little bit less so in accepting inputs that go beyond a simple direct selection.
24. Do you use your own personal device for work?
Not in my current job, simply because I was able to get the devices I wanted and to configure them according to my very specific needs.