Wireless Technologies
C-suite talk fav tech: Magnus Jern, DMI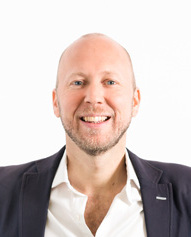 Name: Magnus Jern
Job title: Chief Innovation Officer
Company: DMI
Industry: Digital Mobility
Location: Barcelona, Spain
Years' of experience: Over 19 years of working on app development, end-to-end mobility and digital transformation.
What is your favourite personal gadget?
y iPhone 7 Plus. I actually hung on to my Blackberry for a very long time because I write so much, but with the latest iPhone, writing is as smooth as on a keyboard.
Do you have a favourite piece of personal software?
I use Evernote every day to sync my devices, take notes, write content and structure my thoughts.
What was the first piece of technology you got really excited about?
Our first home computer (IBM AT) in 1984. I learned Basic and Fortran very early on, and it spurred my interest to always learn more about computers.
What device improves your life most at work?
I'm on the road a lot, so I have to say my smartphone again. It's possible to do almost anything on it, except maybe presentations and spreadsheets. Thanks to the increase in productivity when I'm on the road, I can stop working when I get home.
What software keeps you most productive at work?
The Google G Suite is amazing. File sharing, docs and collaboration simply work great.
Is there any technology that has become extinct that you would like to resurrect?
Supersonic airplanes are a good one. Looks like they might come back pretty soon though.
Is there any technology you would personally recommend that you don't think enough people know about? (Hardware or software, work or personal)
Quora is a great work tool for when I cannot find an answer on Google or Wikipedia. Experts provide insightful and generally fact based answers.
Do you think anything about your personal use of tech would surprise your colleagues?
I still use a paper notebook for my to-do lists, task and weekly plans. I've tried lots of tools but never found one that is better than pen and paper for this. Hopefully AI powered virtual assistants will solve this problem in the near future.