Human Resources
C-Suite Career Advice: Rowley Douglas, CloudSense
We ask industry leading C-suite professionals for their expert career advice...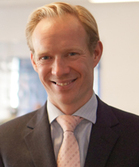 Name: Rowley Douglas
Company: CloudSense
Job Title: Executive Vice President
Location: NYC, USA
What was the most valuable piece of career advice that you received?
Not so much advice but more of a directive from my days in elite sports. It is a simple phrase from when I competed at the Olympics – "Will it make the boat go faster." Meaning, look at what you are doing and your attitude, will they help you attain your objective? Another piece of advice was that we should always act with a sense of urgency – that always stuck with me. You cannot be on a mission without urgency.
What was the worst piece of business advice that you received?
Plenty of people have told me over the years to sell it and worry about delivering later. In some cases I understand what they meant but in many cases I think that is telling of a cultural paradigm of today's profits for me and tomorrow's problems for someone else. I struggle with this concept because I genuinely take seriously what we are selling to our customers and I want to know it is going to work for them and their business. People lose jobs over bad buying decisions and that will never be because I did a fire and forget. I want our customers to succeed and remain customers for years to come.
What advice would you give to someone starting their career in the tech industry?
I think this advice is universal to any industry. What would you do tomorrow if you knew you could not fail? Go and ask questions, figure out who does what and why they do it in your company and with your customers. Nobody will shout at you for asking the questions - just try not to ask the same one twice!
What tips would you give to someone aiming for a c-level position?
I have always tried to progress by playing off a straight bat (apologies for the cricket terminology). I call it as I see it but always try to make sure that is in a constructive manner. Things get done quicker when you get to the point and speed is valuable. Where credit is due to someone else I ensure they get it - to me taking credit for someone else's moves is like cheating.
Are you particularly proud of any career advice that you've given or the career route/development of anyone you've mentored?
Cannot think of anything specifically. I do however always give the time to anyone I know who asks for advice. So many people gave me help and advice I feel it is important that where I can help someone I do.