Human Resources
Millennials talk careers: Roxanne Abercrombie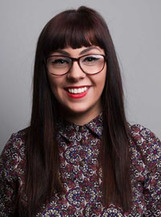 Name: Roxanne Abercrombie
Age: 26
Education: BA in English and American Literature, MRes in American Literature
Current role: Online Content Manager, Parker Software
Ideal role: Head of Content
Are the stereotypes about millennials true?
It's ridiculous to slap a stereotype on a group of people as large and diverse as millennials. I can only speak for myself, of course, but I'm definitely too busy on the job to read the many thousands of articles that would brand me as lazy and self-absorbed.
Without wanting to launch into a 'Four Yorkshireman' sketch about the difficulties of being a millennial, it's a little laughable to be labelled as entitled when, like me and countless others, you had to get two degrees just to get your foot in an office door. Presumably, I'm too glued to my smartphone to have ever seen the 'Four Yorkshireman' sketch in the first place!
Yes, I grew up in a time when blow-up furniture and micro scooters were all the rage. No, that doesn't mean I have an inflated sense of worth and constantly scoot from job to job.
What benefits most attract you to a new position?
The opportunity to make an impact wins my interest. If I see a role that has the scope to bring about a business transformation and make a real difference, that sense of purpose entices me more than a pay cheque would.
For me, a culture of flexibility is also key. It's not about home working every day, bringing a pet kitten to work or typing up your day's work on an oversized beanbag somewhere in an office 'escape pod'. It's more about the freedom to set your own goals and cultivate your own ideas – without red tape and without wading through multiple layers of management.
In the long term which of the following is most important to you? (Please explain why?)
Career development
Work/ life balance
Salary
Long-term, the most important factor has to be work/life balance. Broadly speaking, if you're committed to your chosen field and to keeping your skills sharp, career development and salary increases will follow.
It's that optimum work/life balance that is harder to strike, but it's this that is pivotal to your overall happiness. After all, you can't enjoy a great salary if you're always at work, and you can't be happy with a high-flying career if you're chained to the desk day in, day out.
What do you think most companies are getting wrong when hiring/ retaining younger workers?
I think there's too much focus on fun and fluff rather than actual career opportunity. It seems like every brand is trying to project an image of coolness, competing to win candidates with things like pool tables and fancy dress competitions and colourful wall art.
Now, I'm not saying things like that aren't important. Given the choice, we'd all rather work in a vibrant environment with lots of laughs. If the substance of the job itself isn't great, however, all the office hammocks in the world won't make you enjoy it. In the end, self-development will always trump shiny distractions.
Looking back, is there anything you'd change about the route you took to your current career?
I can honestly say that there's nothing I'd change about the route I've taken. It's taught me the value of hard work, and I've learnt new skills with each step of the journey. If there is a benefit to being a 'millennial', it's a certain fearlessness of knowing when the time is right to take a new job leap and push yourself forwards. It's this, I feel, that has got me to where I am today, and that will build my career momentum in future.