Human Resources
The CMO Files: Lance Concannon, Sysomos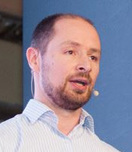 Name: Lance Concannon
Organisation: Sysomos
Job title: Marketing Director, Europe
Location: London, UK
Where were you born and raised?
I grew up in Manchester, during the 'Madchester' cultural explosion – all of which passed me by, because I was inside playing computer games.
What was your first job?
I was a production runner for a TV company making a game-show Granada Television in Manchester, I was 16 and it was a great first step into the media. Working in TV was nothing like I expected a job to be – it was interesting, creative, and showed me that making a living could be fun.
What was the first product you got really excited about?
In 2006 I was working at a PR agency and a client asked if we could help them find out bloggers were writing about them. I wrote some simple code that would do this, and pretty soon we productised it and were selling it as a service. That's what kickstarted my career in social media, and eventually led me to Sysomos.
Who has been the biggest influence on your career?
My three sons – I was kind of directionless before they came along, but having a family to provide for really focuses the mind on how you're going to develop your career and give them a good quality of life.
What has been your greatest achievement?
I'll tell you when it happens.
What has been your biggest mistake?
I spent way too long sticking with jobs that made me unhappy, when I should have just moved on.
What is your greatest strength?
Flexibility – you need to be happy wearing lots of different hats in this job. Events, advertising, PR, content, digital, social media. There are lots of different threads and you need to be willing to get involved in all of it.
What is your biggest weakness?
I dislike delegating work that I know I can do well myself – but you need to give other people the opportunity to learn and make mistakes, so I'm getting better at letting go.
What do you think is the aspect of your role most neglected by peers?
We are here to sell stuff. I work very closely with my sales team, and am reminded every day of the commercial reality of my role. I think a lot of marketers can find themselves too detached from sales and get lost in strategy.
Which word or phrase is your mantra and which word or phrase makes you squirm?
"Content is king" is a phrase I first heard when I was a journalist, and it applies just as much in marketing. If you want people to pay attention to what you're saying, you better say something good. I find the current obsession with AI a little irritating. The technology itself is hugely promising, but marketers have misappropriated it and the overhyping is only going to lead to disappointment and a backlash.
What makes you stressed?
Everything, all the time. That's more of a personal characteristic than anything to do with my job; I have a natural inclination to think constantly about what might go wrong, so I put a lot of effort into making sure that doesn't happen.
What do you do to relax?
I have three children all currently under the age of six. What is this "relax" you speak of?
What is your favourite song?
Du Hast, by Rammstein - they put on a great live show too. I always try to see them when they're touring the UK.
Which book taught you most?
I tend not to read many business books, but I found Tim Harford's "The Undercover Economist" enlightening and it spurred me to read a lot more about economics.
Do you have a team or sport that you follow?
I like to follow MotoGP and World Superbike racing – I raced bikes myself for a few years but gave up after eventually realising I was terrible at it.
Which country would you like to work in?
Canada – I love London, but I'd like to spend some time in a place where they have mountains.
Which company do you think has the best marketing?
I've always been a big fan of the way Google communicates with its markets – very clear style and tone of voice, the brand speaks plainly but not patronisingly. It does a good job of portraying an engineering-led business.
What do you love most about your job?
Being on the leading edge of social media technology. I've worked in social for about 10 years now, and it's great to be at a company that has had close working relationships with the major social platforms for many years. Being at a company where you know the product development team are really tuned in to what the market needs, and are committed to building the best tools, makes my job as a marketer much easier, because I can talk about our products with conviction.
What is your favourite book?
Too hard to choose, but I just finished Doug Stanhope's Digging Up Mother, which is a great read about how his relationship with his mother influenced his sense of humour and his career as a stand-up comic.
What keeps you awake at night?
Figuring out how to get our message to the right people. Our platform is designed to help large organisations simplify their social media activity, which means we need to get buy-in from senior people within those businesses because the tool will touch upon almost every person and department that uses social media. So quite often we have good relationships with the people on the front line, because they've usually had positive experiences of our tools, but the more senior people need convincing because they're less likely to have worked at the coal face of social media and therefore don't have that experience of working with us.