Wireless Technologies
C-Suite Talk Fav Tech: John Kennedy, Proxama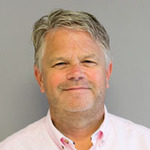 Name: John Kennedy
Job title: CEO
Company: Proxama
Industry: Proximity Marketing
Location: Norwich and London, UK
Years' of experience: 15+
What is your favourite personal gadget?
No competition, my iPhone wins this accolade every time. Simply because of all the things this small device, which fits in my pocket, can do: Watch TV, keep up-to-date with sports, place bets, communicate with the family face-to-face when I'm travelling, listen to music, play games, catch Pokémon and the now underestimated and long forgotten feature: make a phone call!
Do you have a favourite piece of personal software?
I am a big fan of apps (just see above for phone related favouritism) but without doubt, I couldn't live without 'Sky Go' – I travel a lot and as a huge sports fan (especially football) it allows me to keep up-to-date no matter where I am. On-the-go technology allows me to enjoy my personal life whilst on the move professionally.
What was the first piece of technology you got really excited about?
So many to list as I'm a real gadget man, but it has to be the Atari game station, the grandad of platform gaming! I loved it! By modern day standards it really is a dinosaur but the simplistic, one screen game-field, a made for home version of 'pong' and the dawn of cartridge based games makes it an absolute classic that still maintains its appeal for me.
What device improves your life most at work?
There isn't a single colleague at Proxama who wouldn't be able to answer this on my behalf – my iPad! The portability of documents, the software capability and the speed at which I can deliver communications on the go makes it my go to gadget.
What software keeps you most productive at work?
'Good notes' for iPad is my absolute favourite. It's an app that allows me to annotate documents on the go using an ink engine. I love the personal touch, but don't always have the ability to print a document and annotate it - this app brings those two things together. In fact, I found out recently that a colleague was impressed I took the time to print all my documents and go through by hand – I haven't dispelled that notion!
Is there any technology that has become extinct that you would like to resurrect?
I had to really think about this, so many spring to mind: the Walkman, the Mini Disk, the Atari, the Nintendo 64, the BlackBerry… but for me there is something I miss about a portable CD player and in fact the humble CD- the therapeutic process of burning your favourite playlist to a CD that you could share, the loss of the romantic notion of a physical mix tape… It's a sense of nostalgia that really has been usurped by mp3 players and Spotify, and I think I wouldn't be alone in wanting to resurrect it.
Is there any technology you would personally recommend that you don't think enough people know about? (Hardware or software, work or personal)
On a personal level I can't shout loud enough about the Sonos system. Anyone who knows me will be aware of my passion for music; the ability to control it throughout our household, catering to many tastes is brilliant. I love being able to take myself away to my office and play anything my heart desires- until you have invested in it you just don't appreciate its value.
On a professional level it has to be Beacon technology and Google Nearby. The sheer capability of using location and context to send the right message to the right person at the right time via a device that so many people own, the smartphone, never ceases to amaze me.
Do you think anything about your personal use of tech would surprise your colleagues?
Definitely! I'm a real gamer and I love my PS4, specifically for sporting games, Fifa, World Cup Cricket and most importantly Pro Evo (all editions!). I enjoy the social aspect of gaming and much to the disappointment of my wife, my son I can happily play all evening – mostly with me losing. There's nothing like it, especially at family occasions when everyone gathers to play a proper Fifa league together.