Human Resources
Typical 24: Lindsay McEwan, Tealium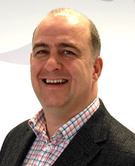 Name: Lindsay McEwan
Job title: VP and Managing Director EMEA
Company: Tealium
Location: London, United Kingdom
Years' experience: 20
1. What time do you reach the office each day?
I don't go into the office each day; I spend my time with my team across Europe. When I am in the office, I am in by 8am.
2. Is your job varied?
Absolutely, I like to involve myself in all of my transactions so I spend a lot of time with a varied set of businesses understanding their issues and challenges.
3. Is your job creative?
Extremely, as we at Tealium are trying to change the way marketers use data over opinion. I am constantly educating and inspiring businesses to change the way they approach marketing to maintain competitive advantage and create meaningful customer engagements.
4. What do you spend the majority of your time doing?
Helping people in our business understand how to cut through the noise this very cluttered industry creates, to ensure that Tealium resonates with our customers, prospects and partners.
5. Do you personalise your desk?
I tend to not use a single desk; I am a modern mobile marketer rarely in the same place for very long!
6. Would you describe yourself as creative?
Yes, creativity in problem solving is the key to success in any organisation.
7. Do you have any quirky daily rituals?
Yes, every morning I am in one of Tealium's offices, I like to say good morning to every member of staff and interact with them on a personal one to one basis.
8. Do you tend to work on your own or with colleagues?
Always with colleagues, leadership is very lonely unless you work alongside your team and collaborate to achieve business goals.
9. How many hours on average do you work a day?
Working for a company that is founded and headquartered in San Diego, I have two jobs – My day job with my locally based European team and my reporting line to the US team. This should convince you that I really do work 15-hour days.
10. Roughly how much time do you spend each day on email? Taking calls? In meetings?
10% on email, 10% on calls, 80% in meetings.
11. Do you use social media much for work?
Yes, modern selling is about using present day methods to reach our customer, prospect and partner audiences.
12. What do you enjoy most about your work?
I enjoy developing staff to believe in their own abilities to do their best.
13. What type of music (if any) do you listen to at work?
I don't listen to music at work, but occasionally staff have been known to hear me singing the last tune I heard on the radio!
14. What do you do for lunch?
Lunch is for wimps! ;-)
15. Do you socialise with work colleagues?
Other than my wife and children, I tend not to socialise with anyone else.
16. Are there any tasks (through your career) you've been especially glad to get rid of?
Unnecessary reporting systems.
17. What is your last task of your day?
Speaking to my sales directors to get the pulse on revenue.
18. How do you like to relax after work?
Weekends are extremely important to me and I never work or travel on a weekend. There has to be a reason to work this hard and the reason is my family.
19. Do you keep checking email through the evening?
Yes, to keep on top of work for a Pacific coast based company.
20. Do you take work projects home with you?
Always, but set them aside on weekends.
21. What would you say to your 20-year old self?
The key to success is believing in yourself, having a good plan and sticking to it.
22. If you could try out any job for a day, what would you choose?
A lion tamer, I reckon it would be less scary than the last of the day quarter!
23. What device did you use to answer these questions?
My Marketing Director's Apple Mac. This was dictated as my leadership team and I work together.
24. Do you use your own personal device for work?
I have bought into the 'Apple-isation' of business. I have all of their products and they are all used to make my working life easier.