Software
C-suite talk fav tech: Simon Best, BaseKit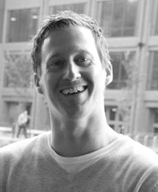 Name: Simon Best
Job title: Founder and CEO
Company: BaseKit
Industry: IT – Website building
Location: Bristol, UK

Years' of experience: 10
What is your favourite personal gadget?
I've recently purchased a Moov Now fitness tracker. It's better than other fitness trackers that I've used because it doesn't just detect activity, it has full 3D motion detection that tells you whether you're performing activities well. The companion iPhone app is like a personal trainer as it tells you how to improve. I use it when I'm running and it helps to push me harder and improve my stats like cadence and impact. It also has workouts that you can run through that get progressively more difficult.
Do you have a favourite piece of personal software?
I have very minimal needs when it comes to personal software. I enjoy reading especially Quora, either via the iPhone app or the website. It is a simple concept - a question and answer website. There are some really fascinating and mind-blowing questions answered if you dig deep enough.
What device improves your life most at work?
I'm always moving around the office, so my Macbook Air is perfect and goes everywhere with me. It packs a lot of power but is compact so it's easy to pick up and move around with. It's also rock solid. It has taken a bashing more than a few times and still looks as good as new.
What software keeps you most productive at work?
I love the simplicity of Trello. It's so easy to pick up and you can organise anything. It's not often that you find software that gets the job done so effortlessly and intuitively. I use it for both work and personal projects and have the app on my MacBook and iPhone.
Is there any technology that has become extinct that you would like to resurrect?
I used to be a DJ and started out using vinyl. While the technologist in me understands that digital gives better quality and is more practical, there was something magical about vinyl that I miss. Records are very tactile - you could literally feel the music coming from them.
Is there any technology you would personally recommend that you don't think enough people know about? (Hardware or software, work or personal.)
Even though it's all over the media and talked about a lot, I'm still amazed at how few people use Uber. It's an amazingly convenient way to get a ride and is usually no more expensive than trying to find and flag down a taxi.
Do you think anything about your personal use of tech would surprise your colleagues?
I don't think I have any particularly weird or wonderful tech habits. I work with equally techie people so that in itself makes it more difficult to find anything surprising. It's great to share new tech with like-minded people and the team I work with will always have the latest gadgets or software.