Human Resources
Typical 24: Brian Gentile, Chief Executive Officer, Jaspersoft
IDG Connect is looking to speak to IT, business and marketing professionals across the spectrum to discover more about their very different, typical working days…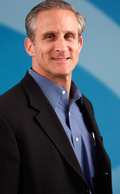 Name: Brian Gentile
Job title: Chief Executive Officer
Company: Jaspersoft
Location: San Francisco, California, USA
Years' experience: 28 years in technology, the last six as a CEO
1. What time do you reach the office each day?
9:00 am. I commute from my home in Los Altos, California (very near to Palo Alto) to the Potrero Hill area of San Francisco, which is about 60 minutes by car (at that time of day).
2. Is your job varied?
Amazingly varied, which may be the most difficult part of trying to be an effective CEO. Being comfortable with the variety is surely one of the biggest adjustments.
3. Is your job creative?
Yes. Bringing creative ideas to complex problems can determine, or at least greatly influence, success. I see building a software company as a partially creative matter, requiring both art and science to succeed.
4. What do you spend the majority of your time doing?
Talking with key Jaspersoft employees about our constraints and opportunities. Finding the most effective way to help customers and put our resources to work for them. This is vital in creating growth. Doing so is full of constraints and trade-offs that must be managed relentlessly and creatively.
5. Do you personalise your desk?
Not really. My workspace is pretty pedestrian. I spend all my time and energy on the business. One of my senior staff has provided me with a Jackson Pollock-esque painting that hangs on my largest office wall. It's fantastic. But I never would have sought it out myself.
6. Would you describe yourself as creative?
Yes, in some ways and no in others. I'm a writer and I've always enjoyed expressing those things which I'm passionate about in writing. Some even tell me that I'm a pretty good writer. That said, I cannot claim any other classic creative capabilities in any form of fine art.

7. Do you have any quirky daily rituals?
My entire life seems a ritual. It's the only way I can operate at the pace and variety that I require. If you followed me for a day, you'd be certain I had "OCD" (obsessive-compulsive disorder). That's just me trying to bring order to my life and maintain some amount of control among what sometimes feels like chaos.
8. Do you tend to work on your own or with colleagues?
Working with colleagues definitely dominates most days. I covet my personal work time, though, and am extremely productive with every minute when I'm on my own.
9. How many hours on average do you work a day?
About 11, on an average weekday. Just a few on an average weekend day. On Friday, I'm known to say "just two more workdays until Monday!"
10. Roughly how much time do you spend each day on email? Taking calls? In meetings?
Email: Varies greatly. No less than one hour and no more than four hours, on average.
Taking calls: About two hours per day, often with investors, board members, customers and journalists.
Meetings: Between four and six hours per day.
11. Do you use social media much for work?
Yes, I prefer Twitter because it allows me to both consume and produce short bursts of potentially valuable information while easily ignoring items that do not add value.
12. What do you enjoy most about your work?
Meeting with Jaspersoft customers and partners, learning how they are using our product to help transform the way we work, live and play. This is by far my favourite part of the job.
13. What type of music (if any) do you listen to at work?
I rarely listen to music at work. If I did, it would be the Beatles or the Rolling Stones
14. What do you do for lunch?
I often will eat with one of my senior staff members, so we can stay close on key topics. It's common that we'll just walk to the local Whole Foods supermarket and buy something fresh and fast.
15. Do you socialise with work colleagues?
Yes, occasionally. I really enjoy getting to know the Jaspersoft team outside of work, but it does feel like a luxury at times. More often, I attend events with investors and other CEOs. Admittedly, I can accomplish quite a lot in those settings and they benefit both me and Jaspersoft.
16. Are there any tasks (through your career) you've been especially glad to get rid of?
I enjoy so many aspects of leading a software business that essentially I'd say "no". But, not having to primarily worry about our financial and legal operations or our physical facilities is surely welcome.
17. What is your last task of your day?
The last thing I do each day is check my schedule for the next few days and speak with my assistant to ensure I am clear on what is coming up.
18. How do you like to relax after work?
My family and I are avid movie watchers (of all types and genres) and so you'll likely catch me in the evening with my wife and (nearly grown) children watching "House of Cards", "Breaking Bad", or many other titles on Netflix.
19. Do you keep checking email through the evening?
Unfortunately, yes, much to the chagrin of my wife – who has become too accustomed to this behaviour throughout the years.
20. Do you take work projects home with you?
Yes, although I try to limit big projects to business hours and to work days.
21. What would you say to your 20-year old self?
Wear sunscreen. No, seriously, I would say "don't go with your group of friends to ride motorcycles in the desert. You'll fall and injure your shoulder badly enough to require surgical repair 29 years from now." I would also tell myself to stop and truly enjoy life's happy moments more thoroughly. Life may be long, but it can go by fast.
22. If you could try out any job for a day, what would you choose?
University Professor, teaching business strategy. I often think that being a CEO is full of teach-able moments. I relish learning and I enjoy teaching, so I think putting those interests to work with college students could be a rewarding next phase to my life and career.
23. What device did you use to answer these questions?
MacBook Air. I worked at Apple from 1988 to 1997.
24. Do you use your own personal device for work?
Yes, I use an iPhone 5.