Human Resources
Typical 24: Lisa Baergen, NuData Security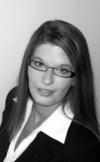 Name: Lisa Baergen
Job title: Marketing Director
Company: NuData Security
Location: Vancouver, BC, Canada
Years' experience: +20
1. What time do you reach the office each day?
Between 7-7.30
2. Is your job varied?
Extremely. I don't think it gets much more varied.
3. Is your job creative?
Every moment requires some creative juice flowing. Whether it be creatively figuring out how to fit it all in; or designing; or coming up with great campaigns. Creativity is the name of the game.
4. What do you spend the majority of your time doing?
Juggling media requests, planning, strategy, writing, directing… This question is too hard to answer.
5. Do you personalise your desk?
I wish. My desk is organized chaos, you wouldn't be able to find any personalized items.
6. Would you describe yourself as creative?
Some times. The juices come and go. However; I am told I am creative.
7. Do you have any quirky daily rituals?
Playing Yahtzee or Sudoku to clear my head during my breaks when I get one.
8. Do you tend to work on your own or with colleagues?
50/50
9. How many hours on average do you work a day?
12 hours; then if you include my second job (being a single mother) it works out to 18hrs / day.
10. Roughly how much time do you spend each day on email? Taking calls? In meetings?
Email: 2hrs. Meetings: 4hrs. Taking calls: 1hr.
11. Do you use social media much for work?
Yes; all the time.
12. What do you enjoy most about your work?
The diversity. The rush I get when we get a big "win"
13. What type of music (if any) do you listen to at work?
Lame 80s love tunes in the background to tune out the world.
14. What do you do for lunch?
Grab food, bring it to my desk and work through it.
15. Do you socialise with work colleagues?
Not really.
16. Are there any tasks (through your career) you've been especially glad to get rid of?
The more writing I can delegate the better.
17. What is your last task of your day?
Making coffee for the next morning.
18. How do you like to relax after work?
I don't get to as a single mother; but usually it would involve a glass of wine if possible.
19. Do you keep checking email through the evening?
Absolutely.
20. Do you take work projects home with you?
Absolutely. It is harder to get them done until after my son is in bed.
21. What would you say to your 20-year old self?
Open an RRSP account today; and start investing.
22. If you could try out any job for a day, what would you choose?
Aquamarine Biologist.
23. What device did you use to answer these questions?
Mac Air
24. Do you use your own personal device for work?
Laptop. No. Phone. Yes.