Human Resources
The CMO Files: Richard Brandon, Edgeware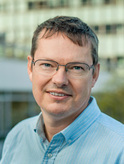 Name: Richard Brandon
Organisation: Edgeware
Job title: CMO
Location: London, UK

Where were you born and raised?
In the UK, in the Midlands
What was your first job?
My first proper job was working on very early fibre optic telecoms systems – a pretty technical role really but as someone who has gone on to market technical products to technical buyers that was no bad thing.
What was the first product you got really excited about?
I was lucky enough to be around at the start of internet adoption. I was marketing routers and switches but it was the application of them to build the Internet that was so exciting. Part of my role was to evangelise the internet and I'd find myself telling friends that one day they'd be able to order pizza on line - they all looked at me as though I was mad. Of course, a few years later they were all 'extra pepperoni…'
Who has been the biggest influence on your career?
That's a tough one. I've been lucky to work with and for some great people. But if I had to pick someone out it would be Christine Heckart, then CMO at Juniper Networks. She helped me understand that being a marketing leader is often about finding the best question to ask, rather than knowing the best answer.
What has been your greatest achievement?
Meet the kids. I love IT and marketing but there really are some things that are more important. If I must pick out a career thing it was probably helping Juniper Networks grow from hundreds to billions of dollars a year, and taking most of that share from Cisco, who weren't too bad at networking themselves.
What has been your biggest mistake?
I think you mean what has been my biggest mistake… so far?
With hindsight, I would probably have taken more risks and sooner. I worked with a guy once who always seemed to be doing outlandish things and pulling them off. Then I realised it was because he'd make enough money that he didn't go through his day trying to protect his job. He simply didn't care about that – only about doing the right thing for the business. And the irony of it all was that his job was even more secure as a result. It turns out it really is easier to ask for forgiveness than permission. (And if this advice gets you fired, then I can only apologise!)
What is your greatest strength?
I really enjoy the creative side of marketing – but not necessarily designing a new ad or brand. I mean really problem solving from a messaging and communications perspective. Give me something that's very hard to communicate on and leave me in a dark room – I love it.
What is your biggest weakness?
My 'interview answer' here would probably be that 'I don't suffer fools gladly'. Which is actually true. And I'm not a huge process person either – so I like to have at least one of those around. Have I got the job?
What do you think is the aspect of your role most neglected by peers?
Probably messaging. Most of the marketing machine (and spend) is about amplifying the message, but especially in hi-tech marketing CMOs don't always spend enough effort on getting that messaging sharp enough in the first place. It's too easy to leave it to the engineers or have messaging-by-committee that tries to include too many different benefits and pain points. Marketing leaders should be all over this stuff.
Which word or phrase is your mantra and which word or phrase makes you squirm?
As a mantra – probably 'consistency'. Say it once, say it again. Marketers are mostly creative types so we get bored of our own story before most people have heard it.
As for squirm phrases, I'm not sure we've got space for them all. Tech marketing can be terribly lazy – how many scalable, flexible, modular, future-proofed products do people need? I could go on and on but I think I'll award my prize to 'leading'. Never tell me you're 'leading', just prove it.
What makes you stressed?
Just the usual. Too much to do and not enough time.
Oh, and other functional department heads that can-do marketing too – which is strange, because they rarely ask me to audit their accounts or develop a new software feature.
What do you do to relax?
Cooking and playing music, but never at the same time. That would be foolish.
What is your favourite song?
That's the hardest question yet! I might get back to you next year on that one.
Which book taught you most?
I'm torn between 'Now, Discover your Strengths' and 'The Dilbert Principle'. Probably the latter.
Do you have a team or sport that you follow?
Yes, but this season I'd rather not dwell on that! Some high-profile fellow-sufferers who support my club include Tom Hanks, David Cameron and Prince William. If you care you can work it out from there.
Which country would you like to work in?
I enjoy being based in the UK and I've worked in the US a lot too. But working for a Swedish company is great. It's a bit dark in the winter but the culture is great and they really get technology in that part of the world.
Which company do you think has the best marketing?
Well it's a bit of a cliché but you have to admire Apple. And not for the usual 'cool packaging' nonsense either.
Apple have consistently taken other people's ideas and marketed them for a massive price premium, in a way that has entirely locked-in their customers, at no great benefit to them, and without them even realising what's happening. It's genius.
What do you love most about your job?
I like the way marketing straddles so many areas – it's close to sales and customers as well as the technology. All the fun bits really!
What is your favourite book?
Catch 22. It's a wonderfully surreal story that makes you think and laugh at the same time.
What keeps you awake at night?
Not much.