Human Resources
The CMO Files: Adam Howatson, OpenText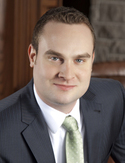 Name: Adam Howatson
Organisation: OpenText
Job title: CMO
Location: Waterloo, Ontario, Canada
Where were you born and raised?
Kitchener-Waterloo, Ontario Canada.
What was your first job?
My first 'real job' was building web front ends for financial and ordering systems when I was in highschool. I ran a small business for a couple of years before graduating and starting off with OpenText in Information Technology.
What was the first product you got really excited about?
Had to be OpenText Content Server (then known as Livelink). The internet was still relatively new (The 'World Wide Web' was, anyways) and the capability to manage content for an organization and apply complex policies and workflows against it with event driven and customizable scripting was amazing!
Who has been the biggest influence on your career?
I would have to give equal billing to OpenText Chairman Tom Jenkins, who gave me the opportunity to get started and mentored me for the first five years of my career, and Mark Barrenechea, our now-CEO, who took me under his wing when he came on board with OpenText. I can say confidently that, without the mentorship, guidance and access to the experience of these gentlemen, I would not be doing what I am today.
What has been your greatest achievement?
A confluence of having had no post-secondary education, having started my own business and having worked my way through the ranks of a Top 10 software company over the past 15 years. It's been an incredible journey.
What has been your biggest mistake?
That's a tough one; we all make mistakes. I do remember, however, early in my career 'going around' a manager who was doing their level best to help me. I learned a lesson there that working with your team and management is always going to be more advantageous than going it alone. As a wise man once told me: success has many parents, but failure is often an orphan.
What is your greatest strength?
I think it's the energy, charisma and dedication I bring to anything I do. I'm an optimist and believe that hard work and results are what matters. That's how I conduct myself and how I expect my colleagues to conduct themselves as well!
What is your biggest weakness?
I think at times I take things too personally. I'm committed to success, but sometimes get thrown a little when things are not ideal. I tend to internalize those types of events, and that can be detrimental.
What do you think is the aspect of your role most neglected by peers?
The intangible elements of marketing, such as advertising and Brand Purpose/Promise. They are things which are difficult to measure, but are very important to a CMO, and do yield results from investment. I sometimes wish functions outside of Marketing were as passionate about these tactics as I am!
Which word or phrase is your mantra and which word or phrase makes you squirm?
Mantra: Trust, but verify.
Squirm: Corporate buzz words/phrases. All of them. They really affect my synergy.
What makes you stressed?
The unknown, or operating without any sort of plan.
What do you do to relax?
I love playing hockey, enjoy being with friends and family, and building things or tinkering.
What is your favourite song?
I'm not much of a music buff; it's hard to pick a favourite!
Which book taught you most?
I read a lot, usually for enjoyment. One of the books that taught me the most or – more accurately – gave me perspective was A Short History of Nearly Everything by Bill Bryson. I also deeply enjoy Douglas Adams, for different reasons.
Do you have a team or sport that you follow?
The Toronto Maple Leafs!
Which country would you like to work in?
I travel a lot, and the more I do, the more I appreciate how great Canada is. I'm happy and proud to call it home.
Which company do you think has the best marketing?
Though it's in the consumer market, it's hard not to point towards the brand equity that Apple has established.
What do you love most about your job?
The ability to be creative, every day, and the people who share that same passion.
What is your favourite book?
Hitchhiker's Guide to The Galaxy or The Dirk Gently Omnibus
What keeps you awake at night?
World politics.