Human Resources
Typical 24: Richard Fenton, Nimble Storage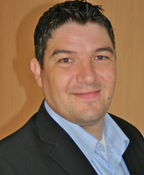 Name: Richard Fenton
Job title: Senior System's Engineer, UK and Ireland
Company: Nimble Storage
Location: Hartford, United Kingdom
Years' experience: 18+
1. What time do you reach the office each day?
I'm a remote worker so my day will vary considerably depending on whether my activity is partner, customer or Nimble focussed. Typically I will start by working at 7:00 am, regardless of where I am physically. If I need to be in our London office I will normally arrive before 8:00 am, as I like to get in early and focus on some activities before the office becomes too busy.
2. Is your job varied?
Yes, it can range from customer meetings discussing the value Nimble could provide to their business, to partners and distributor meetings where we focus on how we can supplement their go-to-market offerings. I work to effectively integrate Nimble within the wider ecosystem, and also focus the company internally, supporting a hugely talented team of system engineers and interfacing with product management around requirements for our strategic direction. All in all it leads to a very varied and fulfilling role and probably explains why I do the hours I do in Q1 and Q4!
3. Is your job creative?
Yes it can be very creative, in the sense of evolving the way we do business given the huge amount of growth we have seen globally and in the UK. We constantly re-evaluate our position and portfolio in order to show the value that the Nimble product set brings to customers and partners alike. We will typically have a number of product releases each year, so understanding what their key features are and articulating them to our different customers and partners can be very creative.
More artistically speaking, I have also been involved in creating a short animated infomercial explaining Nimble's values where the animations were drawn by me!
4. What do you spend the majority of your time doing?
The majority of my time involves evangelising Nimble's technical capabilities to a very wide audience.
5. Do you personalise your desk?
Yes, I am very family orientated person so I have a number of items which remind me of why I work, including family photographs, my children's drawings and keepsakes. I also have some obligatory Star Wars models - R2-D2 stores my pens and USB bits and pieces - and football memorabilia.
6. Would you describe yourself as creative?
Yes, I always look at alternative ways to present new ideas. Anyone who has seen me present will know I love using analogies in order to explain how a technical concept translates to everyday life. However, I also believe there is also a time for process or order, especially when it comes to automating repetitive actions or for sharing knowledge and making mundane tasks easier. The creative part of me will look to structure those tasks and then automate them to make them easier.
7. Do you have any quirky daily rituals?
Coffee in the mornings is certainly a ritual, my brain doesn't get into gear before I've had my morning brew!
I also have an evening evaluation to go over what I have accomplished during the day and assign and prioritise tasks for the next day – it's only a couple of minutes of down time, but I find this helps give me perspective about where I am on my to do list.
8. Do you tend to work on your own or with colleagues?
Physically I work on my own, but virtually there is a large supporting cast in everything I do. There is a strong sense of team at Nimble, so everything we do is centred on helping each other out. Our channel is a natural extension of the team. A great example of this is how our Technical Support team will help us with a specific customer so that customers see us as one Nimble team rather than separate divisions of the same company.
9. How many hours on average do you work a day?
It can vary depending on our activity and the demands on our business. Most days it will average on 10 hours, but sometimes I will burn the midnight candle if needed. I prefer to work smarter than harder.
10. Roughly how much time do you spend each day on email? Taking calls? In meetings?
Way too much! However I've noticed that more and more people are starting to use other means to communicate, such as Skype, iMessage and Twitter. This fits perfectly with our way of thinking, as we thrive on providing infrastructure for projects that enable people to work remotely. IT and technology should really allow users to adopt the consumption model they are most comfortable with.
11. Do you use social media much for work?
Everyone at Nimble is active on social media, especially on Twitter via @NimbleEMEA and @NimbleStorage, and LinkedIn. Also, we have a dedicated team in our San Jose headquarters who closely analyse our activity and work to maximise our social media presence.
12. What do you enjoy most about your work?
It's a split between meeting new customers and partners and discussing product strategy with our product management team. Our customers range from large global organisations to localised businesses, so meeting and understanding a wide range of customers with different environments and challenges is very interesting. The most rewarding aspect is when customers understand our value proposition and start solving their own challenges and discovering different ways to utilise our technology.
From a product perspective, we work with Silicon Valley's finest engineers, so speaking with them in an open and honest culture and understanding how they approach building a product and bringing that innovation to market is fascinating.
13. What type of music (if any) do you listen to at work?
Typically I'm a podcast man in the morning. I listen to Mark Kermode's film review – hello to Jason Isaacs – and Football Podcast. If I'm driving to work and want to listen to music it will be rock - Nirvana and the Foo Fighters this morning. On my way home it tends to be something more sedate, like The Civil Wars.
14. What do you do for lunch?
Invariably, it will be a salad or a quick sandwich - I'm particularly partial to turkey! I've been doing the 5:2 diet for close to a year, so 2 days of the week (usually a Monday/Thursday) I won't eat anything for lunch.
15. Do you socialise with work colleagues?
Yes, I try to engage in social activity with my colleagues wherever possible.
16. Are there any tasks (through your career) you've been especially glad to get rid of?
My first couple of jobs involved on-call support, which was trying not because of getting called but more because of the inability to plan to do anything on those days and nights. That's why I admire the engineers on our technical support team – those guys are rock stars, ensuring high quality support, day or night.
17. What is your last task of your day?
The last task of each day is, understandably, setting the alarm clock for the next morning.
18. How do you like to relax after work?
I like to keep fit, and I enjoy running, cycling, and walking my dog. I also like to watch my sons play football and am a season-ticket holder at a Premier League club.
19. Do you keep checking email through the evening?
Yes, usually via my phone, though after hours I try to only respond to time sensitive emails. During holidays and weekends I tend to shut down completely. I find it's important to clear my mind in order to stay effective, as one can only stay tuned 24x7 for so long before it becomes counter-productive.
20. Do you take work projects home with you?
Sometimes, but as above during holidays and weekends I try to shut down completely.
21. What would you say to your 20-year old self?
Celebrate the success, analyse the failures, don't be afraid to make decisions and trust your instincts. Above all, openness and honesty is the gateway to healthy, trusted relationships.
22. If you could try out any job for a day, what would you choose?
No question – I would love to be an Astronaut! I've just read "The Martian" by Andy Weir and "An Astronaut's Guide to Life on Earth" by Chris Hadfield. Both books make a great companion read.
23. What device did you use to answer these questions?
A MacBook Pro.
24. Do you use your own personal device for work?
No, I use company standard issue devices, although iPads and iPhones are my personal preference.