Wireless Technologies
C-suite talk fav tech: Chris McCullough, RotaGeek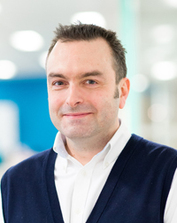 Name: Chris McCullough
Job title: CEO and co-founder
Company: RotaGeek
Industry: Retail, hospitality
Location: London, UK
Years' of experience: Over 15 years
What is your favourite personal gadget?
My Bose Quiet Comfort 35 noise-cancelling wireless headphones. I love them. They make my daily commute much more pleasurable. I also wear them at work (switched off) when I don't want to be disturbed.
Do you have a favourite piece of personal software?
Spotify - just amazing to have instant access to almost any song. I listen to music on my commute, at the gym, in the office and at home. There is not a day goes by that I don't have Spotify on.
What was the first piece of technology you got really excited about?
My first computer, a ZX81 - I still get excited when I see one. I spent hours of my childhood playing games (loaded on cassette) and learning to programme. It had a 16K memory pack - crazy to think that my Samsung S7 Edge has a quarter of a million times more memory.
I probably would have been a developer, but in the early 90's when I was choosing my University course, my dad's advice was 'Computers? Son, there's no money in it'. Luckily for everyone else he was a journalist and not a career advisor. I chose Medicine as a close second to computing.
What device improves your life most at work?
My MacBook Pro - it never leaves my side. I have my whole life on that machine.
What software keeps you most productive at work?
Slack - it's a messaging app for distributed teams. We have offices in London and Melbourne, so it acts a primary messaging hub, and also means that if any of the team are working remotely, they can keep updated with latest team developments.
Is there any technology that has become extinct that you would like to resurrect?
Typewriters. My father was a journalist for the Economist in the 80s. He would spend hours in the evenings and weekends on the typewriter. I love the sound it makes. It totally takes me back to my childhood.
Is there any technology you would personally recommend that you don't think enough people know about? (Hardware or software, work or personal)
RainforestQA - in short it's crowdsourced testing. At RotaGeek we deliver software that solves complex staff scheduling problems for large businesses. We pride ourselves on never shipping bugs. We have a motto 'move fast, but never break stuff' and RainforestQA allows us to do this. Essentially, we write a suite of tests and in one click, these are sent to 50+ testers, who run through 1000+ tests on our application in 40 minutes. It means that we can have a complete site test within an hour. One day, all QA testing will be done this way. I can't recommend RainforestQA highly enough - and they work with some of the world's biggest companies.
Do you think anything about your personal use of tech would surprise your colleagues?
I love technology and am definitely an early adopter. But I love books too much to use an e-reader. I completely see the benefit of having lots of books in a small, light device, but I love the feeling of sitting down with a book and turning the pages. I never throw a book away, so I have a library at home with every book that I have ever owned from my childhood, through medical school to now as a business owner. And every night I read to my children. So an early adopter of everything, except e-readers.