Mobile Applications
Crowdsourcing Innovation: Nissan Yaron, CEO of Inpris
Crowdfunding sites are offering a new path for inventors with original ideas. We talk to inventors looking to gain the public's favour...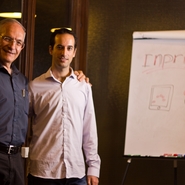 Name: Nissan Yaron
Job title: CEO
Organisation: Inpris
Location: Jerusalem, Israel
Product: UpSense super keyboard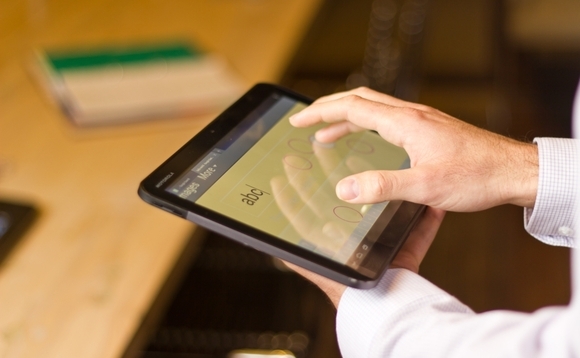 What it does & how it works:
Inpris's keyboard is based on making intuitive multi-touch gestures on the screen, rather than pressing on specific keys.
After calibration, hot zones come under the fingers and make it possible to define between the fingers in a way that making the same gesture with a different finger will create a different character.
The gestures are intuitive, so it is easy to remember them and they can also be customized according to the user comfort.
The keyboard also enables true Braille typing thanks to its ability to define between the fingers (Braille typing is also based upon fingers chords).
What makes it special:
Inpris's keyboard is invisible, ergonomic, enables blind typing and for the first time enables true Braille typing on the touch screen itself.
What's your background, and what inspired you to come up with the idea?
I am a film maker, and graduated the Sam Spiegel film and television school in Jerusalem. I always liked new technologies and when I had this idea, using the art imagination together with technological understanding, made it happen for me.
With my father's help, who is more a technological guy we were able to define the prototype.
At first, I was thinking of creating a touch screen Super keyboard for everyone - an Invisible so it wouldn't cover the screen, ergonomic so it will be much more comfortable to type for long time, and that will enable Touch-typing so we wouldn't need to constantly look at the screen.
During the process, we've realized how important this can be for the visually impaired, and after creating the ability to type Braille and looking at the smiles of the people who tested it, we've realised that we want to concentrate with the visually impaired at this time.
Why Indiegogo?
Kickstarter doesn't allow inventors who are not from the U.S or the U.K to upload a projects so it wasn't a real question for us.
Is Crowdfunding good for innovation? How so?
Very much. It gives innovators the ability to create great innovation without the need of investors who are only interested in the long term profit plans. If the public likes the product and the vision, it can happen no matter what. The innovators will be able to solve the business plan later.
Reactions on IGG so far?
We've just started but so far so good.
What have you learned from your campaign?
Too early to say because we have a special situation where we ask the public to support a product that they will not necessarily use, but can benefit society. We'll see how it goes.
Do you think people with physical disabilities are being left out of the mobile/tablet revolution, and is enough being done to help include everybody?
There are great apps for disabled people, but since it's all a matter of business, sometimes good products wouldn't be developed because the market is smaller.
I think it's the Government's responsibility to encourage the developments of accessibility products for touch screens, and the large manufacturers and carriers to ensure their disabled customers have all the accessibility they need, e.g. a real accessible keyboard for their Smartphone or tablet, as we are creating right now.
What's the learning curve like for someone wanting to adopt the Upsense typing style? Does QWERTY need replacing in the age of touchscreens?
Our experiments showed that it takes about an hour of practice for an average person to know the entire alphabet, and a little more time to type fast.
I believe that the QWERTY keyboard is very bad for touch screens, and it's time to change concept. It doesn't make any sense to cover half of the screen while you are typing, not enable touch typing and being so uncomfortable.
What was it like working with the Google for Entrepreneurs program?
Blackbox connect was an inspiring experience, with great atmosphere and amazing staff. We weren't only learning about making business in the Silicon Valley and about how to present our vision better, but also met with some of the leading innovators who changed the world, and came back with significant relationships and relevant business leads.
What's it like working as Father and Son? Does being a family and a business at the same time impact things?
Working together with my father have many advantages and challenges. When we disagree on something it can impact other things, and when we succeed to overcome a challenge together, it's an amazing feeling. The most important thing is to make sure that the rest of the family doesn't get too annoyed of discussion about the business around the table. I suggest anyone who goes that direction to try to separate family life and business (especially a rollercoaster like a start-up) as much as possible.
Israel is becoming known for its innovative tech startups, does it feel like there's a growing tech scene in the country?
Yes, there is definitely a growing scene of startups in Israel, especially in Jerusalem. From one hand it's great to be surrounded by amazing innovators, but there is also a strong competition on V.C funds who are quite spoiled from all of the options, so I encourage investors to come to Israel and find amazing startups who just need some seed money to break into the world.
Possible business use/advantage?
We believe that any manufacture or carrier who will embed our keyboard in his devices will benefit from more customers, more satisfaction of the existing visually impaired customers, and from their family, friends, and the entire society who will certainly encourage the move and will be happy to support it by using the company services.
Aims for the future?
Being able to define between the fingers with our patented technology, have many potential usages rather than just the keyboard. We are planning a Secure access solution, as well as games, and a whole U.I based on intuitive finger gestures.
Eventually we'll might release an API or SDK so others will be able to enjoy our technology, and create more innovative products.