Human Resources
Typical 24: Ben Stephens, STACK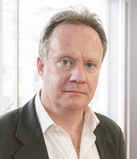 Name: Ben Stephens
Job title: CEO
Company: STACK
Location: London, UK
Years' experience: 25
What time do you reach the office each day?
8.23, or 8.27 if the trainee barista is doing the morning shift at Café Nero.
Is your job varied?
If you have Attention Deficit Disorder this is the job to be in. Cars, male grooming and newspapers in the morning, credit cards, railways and lipstick in the afternoon. The joy of agency life.
Is your job creative?
I have long maintained that if any of my account man ads or ideas actually run we are all in trouble. We have smart planners, great art directors and copywriters to add magic to the colder logic I to bring to the party.
What do you spend the majority of your time doing?
Bringing new clients into the agency and making sure they stay.
Do you personalise your desk?
I have a two-foot model of Big Ben on my desk (get it?). It was a table decoration at an awards ceremony. A friendly client liberated it for me.
Would you describe yourself as creative?
Not in the traditional agency sense. My role is to create the best environment within the agency for commercial creativity to flourish.
Do you have any quirky daily rituals?
I like to take my shoes off at any opportunity. This is only so much fun in meetings in the summer months.
Do you tend to work on your own or with colleagues?
With colleagues. One-to-one sessions all day rather than large formal meetings.
How many hours on average do you work a day?
9 hour days Monday to Thursday. Friday is a shorter day due to the arrival of the beer trolley at 4.30 pm.
Roughly how much time do you spend each day on email? Taking calls? In meetings?
Email invades the day from dawn to dusk, interrupted only by intermittent calls and as many one-to-one meetings as I can fit in: you have to keep talking in agencies – considering, challenging, cajoling and convincing.
Do you use social media much for work?
Yes, to understand how brands are using it in their marketing and customer services.
What do you enjoy most about your work?
Developing thinking and campaigns that give brands a competitive advantage. And then seeing them go live.
What type of music (if any) do you listen to at work?
We take turns to play agency DJ on our sound system. If Moby is playing it's my turn. And everyone else sticks their headphones on.
What do you do for lunch?
Eat. Pret. Leon. Itsu. And then it's Friday, so probably The Ninth on Charlotte Street.
Do you socialise with work colleagues?
Yes, the agency pub is The Carpenters Arms. We use it post pitch, post campaign launch and post work.
Are there any tasks (through your career) you've been especially glad to get rid of?
Yes. Working through two big mergers for a big holding company.
What is your last task of your day?
Updating my To Do list so I can park the day's events, get back to the family and get a fair night's sleep.
How do you like to relax after work?
Kindle on the train. Pinot Noir on the doorstep.
Do you keep checking email through the evening?
Afraid so, though one of my NY resolutions is not to reply after 7pm unless it's absolutely necessary.
Do you take work projects home with you?
Once every couple of months I need a kitchen table day to regroup or to write a presentation that needs some deeper thinking.
What would you say to your 20-year old self?
Don't be afraid to be wrong. You learn so much more from adversity.
If you could try out any job for a day, what would you choose?
Air Traffic Control at Heathrow. I think that would bring the daily stresses of agency life into perspective.
What device did you use to answer these questions?
Macbook.
Do you use your own personal device for work?
Nope.