Open-Source Collaboration
Why is Red Hat partnering with the Tate Modern museum?
Alongside that eternal philosophical question of 'what is art?' you might now add another imponderable: 'why is the world's largest open source software company working with one of the world's most famous art galleries?'
In early April this year Red Hat, undisputed king of business Linux distributions, announced its commercial support for Tate Exchange, a Tate Modern gallery programme designed to make art approachable with visitors sat alongside professional artists creating new work.
So what's the connection, I asked when I sat down with Red Hat and Tate executives in the recently opened Switch House wing of the modern/contemporary art space on the southern bank of the Thames in central London.
Fiona Kingsman, head of Tate Exchange, admits that initially she didn't know much about Red Hat but for her, the programme was "a way of exploring the value of art in society. We were asking 'what do you love?', 'why do you come?' and 'what do you feel you are missing?' We thought it was important to listen to our visitors rather than just have us talking. And the big word that came out was about participation."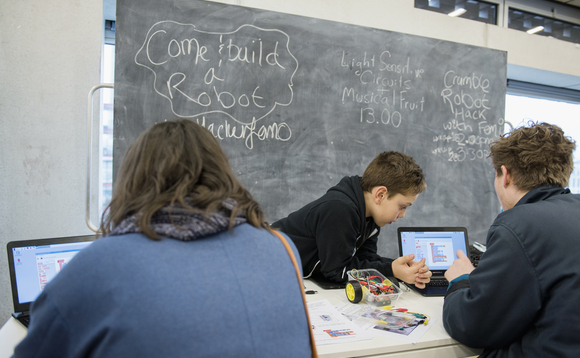 In other words, millions of people have visited the Tate Modern since it opened in 2000 but going to a gallery is often a one-way process that involves visitors looking at paintings, sculptures or other objects… and then leaving. That prompted Kingsman to ask a question:
"Where do you go with those thoughts that you're creating with your own knowledge? And there was no space to share that with others. [We wanted to go from] maybe the Tate being seen as the experts and having knowledge behind closed doors to being an open space where it's not one voice, it's plural, and it's not that one-to-one didactic transmission model."
Tate Modern visitors can now engage in thinking and representing notions about identity, families, love and more, expressing their feelings via a variety of media in a quiet place at the top of Switch House. Stunning views of the capital are bonus points.
Alessandro Perilli, general manager for management strategy at Red Hat, picks up the story.
"We were trying to reach a very specific kind of audience and I am passionate about art and come here often so I thought: how cool would it be if I explored the opportunity of a relationship. Most of the dynamics [behind Red Hat and Tate Exchange] are absolutely identical if you think about this idea of collaboration; the notion of open source is based on a strong desire to collaborate."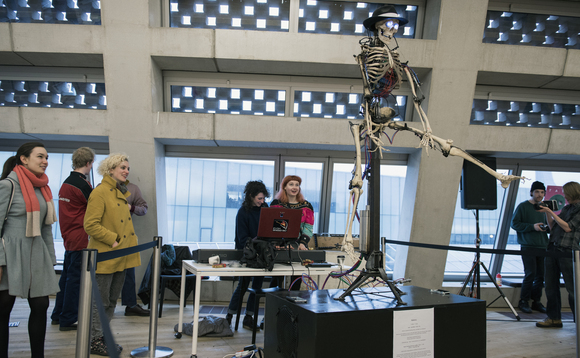 Leigh Day, global VP of marketing communications at Red Hat, says the Tate relationship sits alongside a broader plan to explore how collaboration is changing the world.
"There was a strong desire on our side to communicate the value of open collaboration outside the constraints of the IT world," she tells me. "We wanted something beyond pure IT advertising or sponsorship or campaign activities. We wanted to be very authentic in our marketing, using resources for altruistic purposes."
Red Hat has become synonymous with Linux deployments but it has struggled to make its brand equally well known in middleware, storage or other areas. It also, surely, wants to present itself as different to the traditional IT players that often have preferred closed shops to open systems when they have had chances to lock in customers and partners. Many visitors to the Tate will be blissfully unaware of the company since it has preferred to take a subtle approach rather than just relying on plastering its logo everywhere. The softly-softly tactic might be working: there have been 62,000 participants in Tate Exchange since the programme started in September.
"We were surprised, almost from day one, by how long people would spend with us," says Kingsman. "People literally spend seconds in front of artworks and for people to slow down and dwell is really unusual. Here, people would stay for an hour to two-and-a-half hours, and these were international people, strangers, it was intergenerational."
Downstairs and across the way from where we are talking, people from all over the world pore over the works of Pre-Raphaelites, Impressionists, Surrealists and others. Up here there's a steady stream of enquiring faces exploring the ancient art of collaboration and sharing ideas.
Also read:
The strange story behind Rembrandt's 3D-printed final masterpiece
Can a computer be an art critic?
Bob Dylan's archivists mine new seams
Google's Tilt Brush is a magical VR experience
Are selfies art?