Software
C-suite talk fav tech: Jesse Lozano, Pi-top
CIOs, and increasingly CMOs and CEOs, may be responsible for the technology within their group but what about their personal preferences? We profile the global c-suite to learn more about their 'fav tech.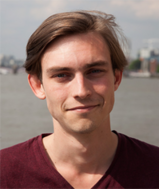 Name: Jesse Lozano
Job title: CEO & Co-founder
Company: Pi-top
Industry: Education
Location: London, UK
Years' of experience: 3
What is your favourite personal gadget?
My favourite personal gadget is my pair of Bose QC35's. As a hardware creator myself I consider the QC35's a work of art, really an incredible set of headphones that are in my opinion in a league of their own.
Do you have a favourite piece of personal software?
Slack, I use it every day for multiple teams and it really is so much better than email communications.
What was the first piece of technology you got really excited about?
When I was a kid the first piece of technology I just had to have was the Sega Genesis. I spent days and days playing on that console and remember being absolutely taken in by Sonic the Hedgehog, Road Rash and the like.
What device improves your life most at work?
My HHKB Pro 2 mechanical keyboard. It is by far the best keyboard ever created and I think possibly the best keyboard that will ever be created. It represents a singular obsession from Professor Eiiti Wada and is an example of hardware perfection I look to emulate when we create pi-top products.
What software keeps you most productive at work?
Slack, it is a fantastically efficient way to keep our team in contact across our three offices in the US, UK and China.
Is there any technology that has become extinct that you would like to resurrect?
I would love to see old school Arcades make a comeback. I think the Nintendo Switch has come very close to resurrecting that feeling of in-person group play in gaming that has been missing.
Is there any technology you would personally recommend that you don't think enough people know about? (Hardware or software, work or personal)
If your work requires you to type often, then I would highly recommend taking any number of touch typing courses available online. It will impact your working life in a massive way.
Do you think anything about your personal use of tech would surprise your colleagues?
I don't think so. As a hardware creator I probably care too much about small details, but that is unlikely to surprise anyone on the pi-top team.