Human Resources
C-suite career advice: Abhijeet Dwivedi, Zenefits
We ask industry leading C-suite professionals for their expert career advice...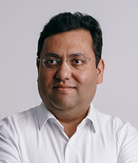 Name: Abhijeet Dwivedi
Company: Zenefits
Job Title: Chief Strategy Officer
Location: San Francisco, CA USA
What was the most valuable piece of career advice that you received?
I have two. The first I received from my first boss back in 2013. I was passionately trying to argue my position, and in doing so, was pretending to be an expert on the topic. His advice – in that moment and in all others – was to keep a beginner's mind. Over the years, this has meant different things to me, including keeping things simple, committing to maintaining an open mind, challenging conventional wisdom, refusing to prejudge situations and never pretending to be an expert.
This advice is similar to Steve Jobs' oft-quoted advice of "Stay Hungry, Stay Foolish" at the close of his Stanford commencement speech in 2005, which also resonates with me. (It's 12 years later, my work notebook has those words written on its cover.) I try my best to approach any problem or situation like a beginner and never assuming anything. Over the years, I've observed that I ask better questions and get more out of discussions when I have an open mind.
The second is to work on your character, not your reputation. This comes from one of my all-time favorite TED Talks called "The Difference Between Winning and Succeeding" from John Wooden, one of the greatest sports coaches of all time. He said, "Your reputation is what you are perceived to be; your character is what you really are. And I think that character is much more important than what you are perceived to be. You'd hope they'd both be good. But they won't necessarily be the same." Those words have never left me.
What was the worst piece of business advice that you received?
I don't think I've gotten any single piece of advice that I'd call "the worst" — but I am always very wary of generic advice that comes from a convenient and conventional place (for example, "follow your passion"). Not every convention needs to be broken or is worth breaking, but it is always worth thinking about doing so if you're trying to find your own path.
What advice would you give to someone starting their career in the tech industry?
I encourage everyone I meet who has an interest in technology to be consistently benevolent – to me, that means being a good human being – and to be a builder who believes in what's possible instead of a cynic.
I was drawn to technology because all of the scientists, innovators and engineers I admired – including Paul Graham, Alan Kay, Steve Wozniak and Bill Joy – seemed to be genuinely nice people. There was something endearing about these people, so I gravitated towards technology because I wanted to be around good people. This industry is obviously working through some challenges in this department, so I find it more important than ever to be a good example to those around me.
What tips would you give to someone aiming for a c-level position?
One of the most important, but often overlooked, functions of great senior people is their ability to consistently simplify. If you look at most executive positions, many responsibilities could be delegated to other team members, but one of the things that only a senior person can do is make it easier and simpler for the company to achieve its goals. I have always enjoyed working with leaders that simplified, no matter how complex or chaotic the business may become.
One of the fundamental "laws" of business is that, if left unchecked, your business will inevitably become more complex over time. Whether organisational structures, performance measures or go-to-market strategy, things always get more complex as a company scales. A great leader is one who can simplify.
Are you particularly proud of any career advice that you've given or the career route/development of anyone you've mentored?
When put in a situation to give advice, I always try to just be a thought-partner and ask questions to help colleagues articulate and get to the root of any problem. I wouldn't say I'm good at giving very specific, deterministic advice, but if I can help people follow their own gifts, be original and pick adventure over the easy road, I feel helpful. And so far, I've felt fulfilled with this approach.