Collaborative Tools
Crowdsourcing Innovation: Chia-Shen Chiang, CEO of Halo-Digi Technology
Crowdfunding sites are offering a new path for inventors with original ideas. We talk to inventors looking to gain the public's favour...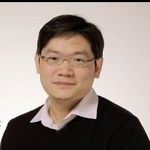 Name: Chia-Shen Chiang
Job title: CEO
Organisation: Halo-Digi Technology, Co., LTD.
Location: Taipei, Taiwan
Product: HaloTouch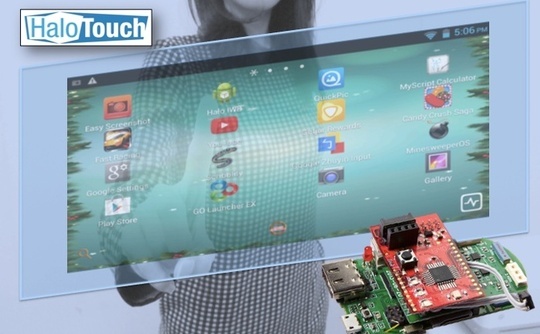 What it does & how it works:
HaloTouch is an interactive Miracast device. It brings the screen of Android phones/tablets onto any surface, and turns the surface into a touch input at the same time. The surface can be flat, non-flat, or even a piece of glass! With HaloTouch, we unleash the true power of touch input and create a more natural way to interact with your smart devices with an affordable price!
Before we choose motion sensor as the key component to achieve such function, there are many discussion in our team. The main reason is that there are a lot of different input solutions on the market, such as image processing (e.g. Kinect, Leap Motion), IR sensor frame (needs to be installed on the wall), laser pointing, natural language input, command based audio input, etc. HaloTouch chose IR-based motion detection sensor due to it's free to install (no need to use hammer & nail), cheap (so everybody can afford), precise (you can't use leap motion to write "words" or audio input for free drawing). We believe HaloTouch hits the sweet spot in terms of price and feasibility.
What makes it special:
HaloTouch is one of the kind of 2-way communication for Android devices. One of the target market segments is traditional Interactive Whiteboard, where teachers can connect to PC and use the projected wall as a virtual touch input. However, there is no solution for such using scenario when it comes to Android device (not to mention the ability of wireless transmission), until HaloTouch. It's a perfect solution to upgrade any projectors into a virtually touch screen, with an affordable price.
On the other hand, HaloTouch can be used to non-traditional surface, such as a statue or even a glass, as long as it can be "projected". One of our demo videos shows the ability of such installation. With the default multi-touch input on Android OS, we can see a very sci-fi way to control smart phones in the future.
What's your background, and what inspired you to come up with the idea?
Our core team members know each other when we joined a VoIP software company in 2004, where we established the knowledge in audio streaming & embedded system. We funded Halo-Digi Technology in 2011 to build our own version of Miracast. Although we made it happen in mid 2012, almighty Google also announced Miracast few months later.
However, it didn't change our goal of finding a better interacting way for smart devices. And that's why we keep moving forward to develop the first 2-way interactive Miracast device, HaloTouch.
Why Kickstarter?
It's the biggest one. On top of that, Kickstarter verify all projects before they launch, which provide more sense of safety for users.
Is Crowdfunding good for innovation? How so?
Yes, we believe so. Creators like us can gather much more information from market and even get funding for our prototype.
Reactions on KS so far?
Not too good, and we know the reason already. Our product needs some more fine-tune to make it more attracting (mainly for the lack of enclosure and we need better video). Besides, as a bunch of R&D people, we don't know how to promote our project on social media. And that's the lesson learned for our next project or even re-launch in the future. Nevertheless, we've got a lot positive feedback and business inquiries, and that's actually good enough for us to go for next stage already!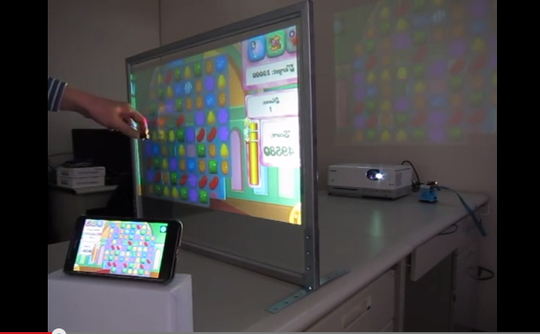 What have you learned from your campaign?
As stated above, Public Relationship, video shooting, product ID design are still key factors for a success product.
How difficult was it to create the Halo Touch?
For us, shooting video is the first gap. It spent us almost 2 months to connect "media people" and narrow down our possible outcome. For other material (document, picture, etc.), it's always in our brain, so it's not too much a burden.
Are massive interactive interfaces the future of work & collaboration?
If you are asking Kickstarter, it is.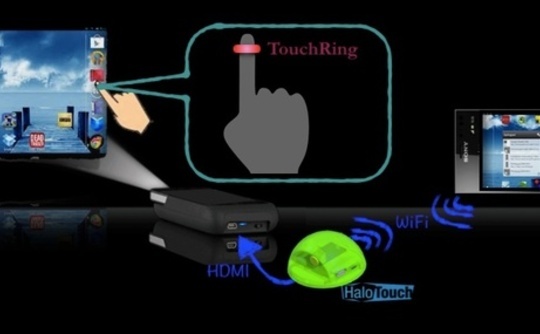 Possible business use/advantage?
KS is likely to be best fit for pretty/special/not too expensive gadgets, from our prospect. For HaloTouch, it would be much better if we have a much better quality of promoting video, and a pretty product design (rather than a naked PCB, lol).
Aims for the future?
Another gadget for Kickstarter campaign, re-launch of our HaloTouch after preparing better design/video, or even set up a company to consult KS in Taiwan. (It's a massive un-fulfilled market in Taiwan since companies are so good at technology/products, while so bad in promoting). At the end of the day, we did learn a lot during the process, and wish our knowledge can be spread out or help to drive a success product in the future.