Human Resources
Typical 24: Donal Kane, Axonix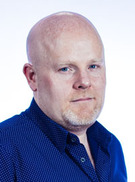 Name: Donal Kane
Job title: Head of Product
Company: Axonix
Location: London, United Kingdom
Years' experience: Working in online media since 1999
1. What time do you reach the office each day?
I normally get in later than I should, but earlier than I'd like to! Typically I'm in the office from 9:30 until around 6:30/7:00.
2. Is your job varied?
Yes - every day brings new and interesting surprises. Being part of a small company means you never know what will come up from day to day and week to week. It's not always a structured environment!
3. Is your job creative?
It's perhaps not creative in the classical sense of the term, but we definitely have to come up with 'creative' solutions to the problems our customers are facing - all the time.
We're constantly striving to be leaders of innovation in our industry, so we need to be able deliver the most unique and ground-breaking products and services if we want to remain competitive – that takes a lot of creativity.
4. What do you spend the majority of your time doing?
Most of my time is spent understanding how our customers and colleagues are using, or want to use, our systems. We then work on designing and implementing tailored solutions to meet those needs.
5. Do you personalise your desk?
In our office we normally hot desk (in theory) so there's a pretty well-established clean desk policy. Everything has to go in your locker every night – so there's not much opportunity for personalisation!
6. Would you describe yourself as creative?
Yes, I would - although if you asked others who see the results of my interior decoration whether they would agree or not I couldn't possibly comment!
7. Do you have any quirky daily rituals?
Not particularly, no.
8. Do you tend to work on your own or with colleagues?
On the whole it's a mixture. I'd say a little more than half my time is spent working on my own and the remainder is split between working with our development and commercial teams.
9. How many hours on average do you work a day?
Usually around 10 hours in total.
10. Roughly how much time do you spend each day on email? Taking calls? In meetings?
I try to limit calls as much as possible, as I find them pretty unproductive. For meetings it's probably 2-3 hours a day and my email is always open, though it doesn't take too much time up.
11. Do you use social media much for work?
In work or for work?! For work, I mostly use LinkedIn and Twitter, but not to a huge extent.
12. What do you enjoy most about your work?
We're a relatively small company and I like the freedom that gives us. It's completely in our control whether we succeed or not. That can be quite daunting or quite liberating, depending on your point of view. Personally I would go with 'liberating'.
13. What type of music (if any) do you listen to at work?
I'm generally very bad at music. In the days of CDs it wouldn't have been uncommon for the same CD to stay in the CD player for months on end! Nowadays, I rely on Spotify. I have one Spotify Playlist called "Random Like", which is really rather random but at least has more tracks than an average CD. Occasionally I listen to that, but in general I'm not a regular music listener at my desk.
14. What do you do for lunch?
Anything but the canteen in the office! I like getting out and about at lunch. Luckily I'm fortunate enough to work in the very centre of London, where you can theoretically go somewhere different for lunch every day and never run out of new places to try. But I'm testing that theory!
15. Do you socialise with work colleagues?
Yes, we're quite a social office, which is a good thing. After work drinks are both a regular and a pleasant event!
16. Are there any tasks (through your career) you've been especially glad to get rid of?
I can't think of any specific tasks, but in general I think the more you put off a task you don't want to do, the worse it becomes in your mind. In reality though it's not as bad as you think- and it's always easier to just get it done.
17. What is your last task of your day?
I always finish the day by checking back over my inbox and to do list. This way I see what I've not done and then make sure it's on my list for the following day.
18. How do you like to relax after work?
Cooking Dinner - being able to follow a recipe with a predictable outcome is surprisingly therapeutic and a counterpoint to an unpredictable day at the office!
19. Do you keep checking email through the evening?
Yes, I'm addicted!
20. Do you take work projects home with you?
Probably less so than email, but if something needs to be done then yes, I'd rather take it home and get it done than stay in the office to do it.
21. What would you say to your 20-year old self?
Don't worry about planning too much - be flexible, take the initiative and go with the flow. Whatever you end up doing in 20 years' time probably won't be something you could think of right now, so have an open mind.
22. If you could try out any job for a day, what would you choose?
If I could choose, I'd probably go for travel writer. Being paid to holiday is surely living the dream!
23. What device did you use to answer these questions?
My work MacBook Air.
24. Do you use your own personal device for work?
I don't normally in the office, but if I'm at home when accessing work, then yes, I use my own desktop/laptop.