Human Resources
Millennials talk careers: Andy Eldridge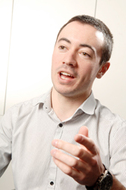 Name: Andy Eldridge
Age: 25
Education: LLB Law degree
Current role: PR Account Director
Ideal role: BTCC Racing Driver J
Are the stereotypes about millennials true?
A lot has been written about why millennials often live up to the stereotypes they're labelled with. However, just as much effort has gone into proving why those same stereotypes are wrong. You can't tar everyone in a certain age group with the same brush and, among those I work with at least, those stereotypes are indeed unfounded. Yet there will always be exceptions that prove the rule.
It's worth considering the external factors that led to these stereotypes in the first place. Millennials are part of a generation that came of age during a period of financial crisis. Work stability isn't like it once was and living costs, particularly in the capital, continue to rise. You almost can't blame millennials for job-hopping to boost their salaries, or taking a certain approach to securing a position in the first place, when so many global economic factors have historically been working against them.
What benefits most attract you to a new position?
Company culture will always be up there. I'm a big fan of working with smaller and more tightly knit teams, to the point where I couldn't imagine myself being anywhere that employed more than 50 people. Having said that, things change and priorities shift as time moves on. Although flexibility and remote working is most important to me right now, something else will undoubtedly take the top spot in the future.
In the long term, which of the following is most important to you?
PR has a work hard, play hard mentality associated with it. In my experience, this encourages younger employees to focus on career progression early on as a way to justify the long days and "always on" requirements of the job. I certainly fell into this trap to start with. Now, though, I'm more motivated by finding new ways of creating a favourable work-life balance for my team and helping new starters avoid making the same mistakes I did.
What do you think most companies are getting wrong when hiring/retaining younger workers?
Flexibility has become one of the biggest draws for hiring and retaining workers across the board, but it's especially true for those under 30. Presenteeism is starting to show its age and, as such, businesses should be looking at how they can help their employees to work smarter, not harder. Since we've all got smartphones in our pockets, laptops in our hands, and access to the internet almost anywhere we go, it's entirely possible to be productive while working remotely.
There's something to be said for any employee – regardless of age, role, or personal situation – having the freedom to deliver what's required on a schedule that works for them. Being chained to a desk in the city between the hours of 9am and 5pm, and wrapping that working day around a long commute, has become counterproductive for the output of many businesses and also for the talent they're looking to retain.
Looking back, is there anything you'd change about the route you took to your current career?
I wouldn't change the route I've taken. As someone much more successful than I once said: "Never regret anything because at one time it was exactly what you wanted."