Human Resources
C-suite talk fav tech: Neil Innes, Visualsoft Ltd
CIOs, and increasingly CMOs and CEOs, may be responsible for the technology within their group but what about their personal preferences? We profile the global c-suite to learn more about their 'fav tech.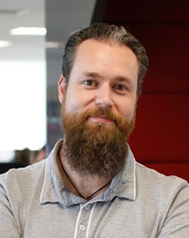 Name: Neil Innes
Job title: Chief Technology Officer (CTO)
Company: Visualsoft Ltd
Industry: eCommerce
Location: Stockton-on-Tees, UK
Years' of experience: 15
What is your favorite personal gadget?
It has to be my Apple TV Fourth Generation. It supplies me with Netflix, Now TV, TV Play, and a tonne of games - what's not to love?
Do you have a favorite piece of personal software?
I love puzzle games like The Silent Age, Monument Valley, Lumino City, 2048 and Lost Echo, but I use a lot of outdoor utility apps like ESR, Polar Beat, Fitness Point and OS Maps too.
What was the first piece of technology you got really excited about?
It would have to be my Spectrum ZX 48k – My Dad used to get Input magazine when I was a kid, and I started reading through them and then typing in the code for the games. Eventually - once I got old enough - I started changing bits of the code to see what it would do, and eventually began making my own.
What device improves your life most at work?
My Luxafor status flag: http://luxafor.com/luxafor-flag/. It comes with a great development pack so you can play around and automate its status. I've got it warning me of the status of our servers, as well as letting everyone know if I'm currently in the middle of a long train of thought!
What software keeps you most productive at work?
Not very exciting, but Google Keep https://www.google.com/keep/ has definitely been a win recently. It's just an online tool which allows for seamless note, list, and image sharing between my devices, as well as between co-workers. We use the G-suite across the company and it keeps us all very productive.
Is there any technology that has become extinct that you would like to resurrect?
Ah, the beloved MiniDisc. It was a great format with good sound quality and deserved a longer life. RIP.
Is there any technology you would personally recommend that you don't think enough people know about? (Hardware or software, work or personal)
Regular expressions - they are so useful and underused. Using an application like TextWrangler https://www.barebones.com/products/textwrangler/ you can quickly process a file with some regular expressions and it's awesome. If I had to pick another, I would also go for Terminal, which isn't used or appreciated as much as it should be.
Do you think anything about your personal use of tech would surprise your colleagues?
Probably not, to be honest! I think they would be more surprised by my love of getting my hands dirty doing DIY at home and messing my motorbike.