Human Resources
The CMO Files: Frank Durden, Binatone Hubble group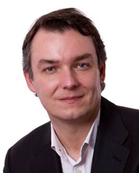 Name: Frank Durden
Organisation: Binatone Hubble group
Job title: Chief Marketing Officer
Location: Global (but live in London)
Where were you born and raised?
I'm London born and bred, with a hint of Essex thrown in for good measure. It's why I love getting a good deal.
What was your first job?
I had a paper round when I was 10, and then worked in the bike shop next door when I'd finished.
What was the first product you got really excited about?
Thankfully, given both my first jobs depended on it, it was my Raleigh Arena bike. I still love cycling to this day.
Who has been the biggest influence on your career?
My former boss at WCRS, Paul Lawson, now CEO at Leo Burnett. He taught me the difference between positivity and levity, occasionally by swapping the two.
What has been your greatest achievement?
Now I'm on the client side, I can appreciate the excitement of winning a new customer listing. But nothing compares to the thrill of winning a big advertising pitch. One company, Motorola, I even won twice. I liked them so much I decided to go work for them.
What has been your biggest mistake?
I've made two career changes along the way: first from advertising account management to strategic planning, and then from agency to client side. I had to be asked three times to grasp the nettle first time around – I wasn't going to make the mistake of waiting again.
What is your greatest strength?
In the era of media and brand fragmentation strategies and tactics can get increasingly complex and multifaceted. But winning ideas always have a simplicity at their heart. That's what I strive for.
What is your biggest weakness?
Although commitment is a pre-requisite to success, you can make bad decisions when you want something too much. I think a degree of detachment always helps, but I sometimes struggle to achieve it.
What do you think is the aspect of your role most neglected by peers?
In the digital age marketers are better able to define the entire brand experience than almost anybody else, yet are too often labelled simply as 'marketing communications'.
Which word or phrase is your mantra and which word or phrase makes you squirm?
I don't know about a mantra, but the question I ask more than any other is "will it sell?". If I can't answer that then I know I'm probably doing the wrong thing. By contrast, the next person who says they're a 'content specialist' is likely to receive short shrift. Content is just about anything and everything these days.
What makes you stressed?
Dealing with head office in Asia at the start of the day, in the full knowledge that our biggest market in the US awaits at the end of it.
What do you do to relax?
Turn off my iPhone.
What is your favourite song?
The theme from Starsky and Hutch by the James Taylor Quartet. A throwback to altogether simpler times when the difference between good and bad was obvious.
Which book taught you most?
There are many great books out there, but Daniel Pink's "A Whole New Mind" is up with the best of them. We'd all do well to remember the value of design, empathy and laughter, for example.
Do you have a team or sport that you follow?
The mighty AFC Wimbledon. As close to 'taking it to the man' as football can come.
Which country would you like to work in?
I've lived and worked in the US and Europe, and now spend a lot of time in Hong Kong. Each has their own foibles, but now I'd love to experience something completely different. I had a chance to work in Myanmar a couple of years ago – now that would have been something.
Which company do you think has the best marketing?
Tesla is one of the most interesting companies out there right now. Everything it does has the feeling of taking on the impossible, or at least the very hard. That's kind of infectious.
What do you love most about your job?
We're in the innovation business. We always have to think about the next big thing.
What is your favourite book?
Heston Blumenthal's Fat Duck Cookbook. I know I'll never get to use it beyond page 2, but every page is full of awe and wonder.
What keeps you awake at night?
Our dog chasing our cats.