Human Resources
Typical 24: Scotty Morgan, Adapt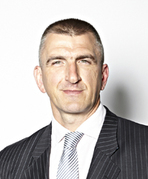 Name: Scotty Morgan
Job title: Chief Sales Officer
Company: Adapt
Location: London, UK
Years' experience: Over 15 years' experience in the Managed Services Sector
1. What time do you reach the office each day?
7:30am – straight from the gym!
2. Is your job varied?
Yes! That's why I love it. No hour is the same. I love spending time with my customers and learning about their businesses. The variety in the role allows me to switch between counsellor, strategist, sales professional and hard-nosed negotiator throughout the day.
3. Is your job creative?
Yes, we are continually trying to find the creative inches that make us stand out in the dog fight that is the cloud services marketplace. The team is made up of a rainbow of talents and I have a huge respect for their varied skills. They're an absolute joy to work with and I love to bring the best out in all of them.
4. What do you spend the majority of your time doing?
The majority of my time is spent with my team and customers, thinking about how we make sure we win (every time) and living in healthy paranoia to keep one step ahead of the competition. All of the internal elements like board meetings or strategic sessions are there to achieve one thing – driving EBITDA and helping our customers win in their markets.
5. Do you personalise your desk?
I have a 1970 Dodge Charger toy, a Minecraft creeper and a mini Lego Batman. These are gifts from each of my three sons. It is a standing desk. My personal beliefs about standing up have been practiced now for many years, before it was trendy!
6. Would you describe yourself as creative?
I'd describe myself as energetic, deeply thoughtful, and I suppose that would make me creative. My team radiates with an incredible creativity and it's fantastic to bounce ideas with the fabulous people that surround me.
7. Do you have any quirky daily rituals?
I am a creature of habit. I will always wake up at 5:15am & work out most days. The adrenaline rush I experience when I finish 8k on the Concept 2 is a great start to my day. Every morning I try and square up to my PB and do my level best to beat it! Going to the gym has the double benefit of clearing out my brain while training and refocusing my mind. Plus, those endorphins help to blast away any unnecessary stress.
8. Do you tend to work on your own or with colleagues?
With my colleagues, no question. I get my energy from other people. I work with an amazing team and consider it Adapt's most important asset. We are able to excel because of the knowledge, passion, skills and technical acumen across the entire company. 'Succeed Together' is one of Adapt's values and my personal mantra is 'find a way or make one'. We usually do!
9. How many hours on average do you work a day?
12/14 but it doesn't feel like work.
10. Roughly how much time do you spend each day on email? Taking calls? In meetings?
Each day is different & I try not to waste time on areas that don't deserve focus. I'm on the phone as much as possible, and try to keep meetings productive. In today's workplace there's no time for irrelevance, I've taken a militant approach to email; I've set up a rule to send any email I'm copied in on straight to junk mail – it's either for me or not. The same applies to meetings – I will never attend a meeting for meetings' sake.
11. Do you use social media much for work?
Yes, I am a big believer in LinkedIn and I'm a man new to Twitter.
12. What do you enjoy most about your work?
Winning, all the challenges and consistent learning. I think I've learnt more in the last 18 months than I have in the previous 18 years.
13. What type of music (if any) do you listen to at work?
We listen to the radio or someone's playlist. It's amusing to see how different people react to certain radio stations and who gets their choice.
14. What do you do for lunch?
I usually leave the office to grab some air & a box of sushi or a chicken salad. I don't eat junk or processed food.
15. Do you socialise with work colleagues?
Yes, I enjoy a pint with the team and understanding more about their human side.
16. Are there any tasks (through your career) you've been especially glad to get rid of?
Yes, compensation and benefits when I was a HR partner – I didn't enjoy it but it was a good stepping stone.
17. What is your last task of your day?
I check my emails before I set my alarm for the morning – that is my very last task of the day.
18. How do you like to relax after work?
Depends, maybe a beer, some reading or some face-time with warriors (sons).
19. Do you keep checking email through the evening?
Yes I do. Lots of the Execs get quite a lot done over text and email after hours as we are all too flat out during the day. Nothing to be proud of I know!
20. Do you take work projects home with you?
Yes
21. What would you say to your 20-year old self?
'Stop mucking about, knuckle down and it will be worth it in the end'.
22. If you could try out any job for a day, what would you choose?
A playboy billionaire. Although it would be a challenge to return to normal the next day.
23. What device did you use to answer these questions?
My brain, my mouth and a computer.
24. Do you use your own personal device for work?
Yes, my iPad.