Handheld Technology
C-suite talk fav tech: Martyn Barnett, RMG Networks Ltd
CIOs, and increasingly CMOs and CEOs, may be responsible for the technology within their group but what about their personal preferences? We profile the global c-suite to learn more about their 'fav tech.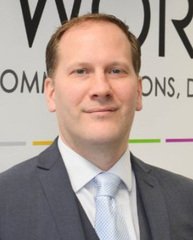 Name: Martyn Barnett
Job title: Managing Director
Company: RMG Networks Ltd
Industry: Digital Signage
Location: London, UK
Years' of experience: 25
What is your favourite personal gadget?
I love gadgets that can be used to bring disparate systems together into an integrated solution to makes today's hectic life easier. Probably the most well-known example of this is the Smartphone. Who would have thought back in the nineties of having a single hand-held device that integrates communication (voice, instant and email) with the internet, camera, calculator, your whole music collection, instant access to music that's not even in your collection, videos, movies, games, your daily newspaper and so on.
I like to think of myself as an 'advanced user' of my iPhone, as I use it to control just about everything in my home as well – the heating, the AV systems, whole-home music and video, CCTV, the house alarm, the coffee maker – it can even tell me where my car is, and turn on the A/C.
Just a shame I don't have an app to control my four-year old daughter!
Do you have a favourite piece of personal software?
I'm a huge fan of the open source community, having spent the first ten years or so of my career as a Software Engineer. I understand the value that the open source community provides to challenge the increasing complexity of software and the rapidly declining timescales to develop software, especially with structured methods of managing the development robust code such as Agile.
I think my favourite piece of open source software is a little application called Sweethome3D that allows you to model your home improvements using easy 3D visualisation – critical to obtain those sign-offs from the wife for a DIY project or two!
What was the first piece of technology you got really excited about?
That's impossible to answer without recalling taking mechanical clocks apart when I was five, or soldering relays into my clock-radio to turn the lights on in the morning when I was twelve, or reminiscing about my Dragon32, or the first 8086 I ever built. Maybe they were the 'firsts', but as every day goes by I am amazed and impressed with advances in technology. Only the other day I saw a social media post about the first 3D robotic LED advertising display that had been deployed. Every day I get excited and amazed by technology and I am so lucky to be working in this field of constantly changing landscape of tech.
What device improves your life most at work?
I am afraid I am going to have to say my Apple. The naturally integrated ecosystem between a Mac, an iPad, an iPhone and an iWatch means my calls, emails and SMS's, my documents, presentations and spreadsheets are all constantly and easily synchronised and available to me wherever I am, and on whatever device I am using.
It's a paradox I know, since my natural inclination is to favour Open Standards and Open Communities so that cross device integration can be performed easily without being tied at the hip to any one manufacturer… but, alas, Apple just does it so well.
What software keeps you most productive at work?
You think I'm going to say email right? Wrong…. I believe that email is the single biggest contributor to lack of productivity in the workplace right now. Or, perhaps I should qualify that to say that email etiquette is the single biggest contributor. There are too many bad behaviours that people get into for example, sending too many emails, copying everyone, writing emails that are too long, not getting to the point in emails or burying questions in the depths of great narrative. Bad behaviour that causes emails instead of phone calls, or inbox overload before 8am in the morning, or after 8pm at night.
I believe that email is being abused by most people in the workplace and these bad behaviours are causing a lack of productivity, stress, and disengagement generally.
Is there any technology that has become extinct that you would like to resurrect?
I am certainly concerned about compromising quality over convenience when it comes to technology advances. I met some Generation Z individuals the other day who didn't know what 'Hi-Fi Separates' were, and in the subsequent discussion about music playback I learned that they're just streaming compressed MP3s off phones or out of TVs using horrible-sounding mylar transducers.
Is there any technology you would personally recommend that you don't think enough people know about? (Hardware or software, work or personal)
Easily my answer here is home automation. This is absolutely the future. There is increasing talk about IoT and Samsung fridges that can access the internet, but this is a mere nod to the topic. Fully integrated systems with voice control and IFTTT or scene control capabilities to control just about anything in the house is just around the corner. That can be any device with a plug or battery such as alarms, anything electrical or any AV device. The technology exists and people are just about becoming aware of the capabilities via Amazon Echo for example, but I think this industry is going to explode in popularity over the coming years.
Do you think anything about your personal use of tech would surprise your colleagues?
I think most people might be surprised to learn that I am a gamer. I've always been a keen gamer, but my habits have changed over the years to fit with my changing circumstances. Only a few years ago, I might have been guilty of spending an entire Sunday on Call of Duty, but with a daughter on the scene the habit remains but the use of technology to maintain the habit has evolved. I still game, but on mobile devices, and only for a few tens of minutes when I get some downtime. Precious downtime.