Wireless Technologies
The Drone Age is here
The drone industry is a new and exciting space. Futuristic predictions about Unmanned Ariel Vehicles (UAVs) filling our skies are easy to get excited about, but there's a lot to do before we can get that far. What drone should you pick? What should you use it for? What are the rules of the sky?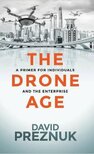 Luckily David Preznuk has a book designed to help you get on the road from drone novice to UAV expert. The founder of drone services company Aerial Strategies and a qualified pilot for over 20 years, Preznuk has just released a new book; The Drone Age – A Primer for Individuals and the Enterprise, an easy to digest introduction to the world of UAVs.
"[The book] is the first of its kind and provides a foundation of knowledge for anyone looking to learn more about the commercial drone industry," he tells us.
Covering everything from the history of drones and use cases to what you need to know and consider about the platforms themselves as well as the rules around flying them, Preznuk describes it as "the book I wish was available when I entered the commercial UAS industry".
Throughout the book Preznuk strikes a very optimistic tone for the industry, taking a very "when, not if" stance to mass adoption. "Market forecasts for the commercial UAS market vary around the globe, but they have one common theme; they all indicate the great speed at which this industry is growing and that projected growth is astonishing," he says.
"I believe the forecasts are conservative and will be realised sooner than we all expect them to. The commercial industry is still evolving and technology is advancing rapidly, offering tremendous economic and social value. Rates of UAS use will continue to climb as regulatory environments stabilize and adapt to the innovation that is occurring."
While the market continues to grow, many vendors are releasing at least one major product revision per year, meaning the capabilities of the drones themselves are improving at what Preznuk describes "a feverous pace".
"Last year we saw manufacturers focus on the user experience and release products that had amazing integrated solutions that immediately improved the safety flight operations.
"Once a product hits the market, users are quick to exploit strengths of a product and just as quick to make suggested improvements. I see this is as a healthy evolution that occurs in the early days of any new industry and in particular the commercial drone market. The future is bright and only limited by our imaginations!"
Industry & use cases
At the recent SkyTech conference in London, one speaker claimed that drone manufacturers "aren't listening to what enterprises want" and "have a lack of understanding" about what companies may want from a commercial drone. Is Preznuk so downbeat? "Commercial and industrial sectors are still exploring ways to maximise business value of these amazing technological platforms.
"Commercial operators are doing a great job leveraging the capabilities that are available and Enterprise customers will continue to push for new capabilities, as they better understand how to integrate these capabilities into their business ecosystem."
DJI is undoubtedly the current head honcho when it comes to sales of drones, and has recently made greater efforts to appeal to the agriculture and aerial surveying industries. The Drone Age doesn't specifically look at individual platforms or brands, and Preznuk admits he doesn't have a crystal ball to help him predict the future winners. "It is safe to say, however, that the current industry will continue to see competition. We are beginning to see large aerospace and military vendors enter this space, and this will accelerate as the commercial markets around the globe expand."
What will all these new drones be used for? In his book, Preznuk describes a future where fleets of automated drones could be used to clean oil spills or remove pollution from the atmosphere. While that's probably a few years off, there are industries that could immediately benefit from greater UAV adoption.
"Agriculture is a clear benefactor of commercial drones, the value is high and the risks are low and it is already well understood how using these technologies will improve yields, reduce overuse of pesticides and fertilisation and reduce equipment operation and maintenance costs. This technology is also available to everyone, even the smallest growers who are constantly looking for ways to improve the bottom line and have less ability to cope with unexpected losses.
"Other use cases that are easy benefactors include inspections that involve high risk to humans – towers, bridges, HAZMAT, First Responders, just to name a few. Any time we can use technology to reduce human exposure to high hazards, increase situational awareness, and reduce response times we will see benefits. Delivery of goods to our homes I think it is technically possible, though I think the regulatory environment and public sentiment will take some time to catch up."
Industry challenges
A report from the AUVSI drone associations predicts the industry could generate some $82.1 billion [PDF] in the US by 2025 if proper integration with the National Airspace is granted by the FAA. However, with any new industry, problems will arise. "Industry challenges will persist for some time, in all markets and regions around the world," says Preznuk. "Immediate challenges exist in regulatory environments, standardization, technologies, governance, and business operations to name a few."
Currently commercial drone operators must apply for special exemption (Section 333 exemption) and still face strict limits over where they can fly (and what/whom they can fly over) although potential rule changes may come in April. One of the main sticking points for many commercial drone companies is the rule against flying Beyond Line of Sight [BLoS] – for example for delivery purposes a la Amazon or Google.
"I believe we will see BLoS adoption within five years in some applications," says Preznuk. "BLoS is successfully used in military and space programs, and the technology is already available to permit safe BLoS operations for many UAS applications."
Preznuk predicts, however that the regulatory environment will continue to struggle to keep pace. "Regulatory environments need to have flexible policies that will continue to adapt, react and anticipate future needs with regulations that are more elastic and flexible to meet current and future industry requirements."
Drone vs. planes and the press
Another challenge is the constant deluge of bad press. Although a new study suggests the threat may not be as large as advertised, headlines of "near misses" at airports are a becoming a near-weekly occurrence. "Public opinion is initially formed by what people see in the news," explains Preznuk. "Regrettably, sensational headlines draw attention, readership, and sales."
He says that to reduce the number of bad headlines, it's up to the drone community to do more outreach and demystify these devices. "In the 24/7 news cycle we live in these days, more positive information needs to be shared.
"I see stories of lives being saved due to the quick actions of responsible drone operators," he says. "Awareness and education are vital to dispelling the negative perceptions that have been instilled in the public via the careless and reckless acts of the few irresponsible operators that garner so much media attention."
Additional Reading:
Review: The Drone Age - A Primer for Individuals and the Enterprise
Commercial drone flights: Poor rules, NASA, & the future
SkyTech: Drone industry takes pains to be better
Commercial UAV Show: Use cases for drones in business
UK: Drones rules for emergency services don't apply