Wireless Technologies
C-Suite Talk Fav Tech: Susan Bowen, Cogeco Peer 1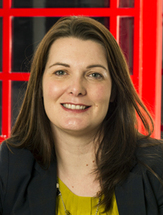 Name: Susan Bowen
Job title: Vice President and General Manager EMEA
Company: Cogeco Peer 1
Industry: A global provider of data centre, cloud, security and connectivity services
Location: Southampton, UK

Years' of experience: Over 20 in the technology industry
What is your favourite personal gadget?
SONAS is my favourite personal gadget. Music is a big part of my family's life so we have SONAS installed in every room in the house. I especially love that we can control it from our mobile and laptop devices, and access our entire collection of music.
Do you have a favourite piece of personal software?
I use apps such as Twitter, WhatsApp, LinkedIn, BBCNews and SkySportsFootball everyday. My favourite app is the PeppaPig Paintbox however, because my little boy loves it. We have great fun creating pictures with Peppa and George!
What was the first piece of technology you got really excited about?
I think it would have to be My Munchman, which I was given for Christmas at the age of seven. Donkey Kong is a close second. I still have them both today (and they still work!).
What device improves your life most at work?
On average I use video conferencing eight times a day to talk to both customers and colleagues in America and Canada. I think it really helps to see people, their mannerisms and body language. Cogeco Peer 1 has just installed a Cisco DX80, however Skype and Microsoft Lync are also great video conferencing tools. We really can work anywhere these days.
What software keeps you most productive at work?
There are three apps that have changed my life, ensuring I get to work on time: RINGO parking, JustPark and TheTrainline. Without these, I would be a lot less organised in the morning and would also struggle to get home on time to see my little boy.
Is there any technology that has become extinct that you would like to resurrect?
As a huge music lover, I was super excited to see that record players have made a comeback. My family Vinyl collection is pretty special and varied. I'm not surprised that record players are coming back into fashion again as the quality of vinyl is excellent.
Is there any technology you would personally recommend that you don't think enough people know about? (hardware or software, work or personal)
We have Heatmiser installed in our house and we love it. We can control every aspect of our heating throughout the house via our mobiles, which is great and ensures our house is warm in winter.
Do you think anything about your personal use of tech would surprise your colleagues?
I think a lot of my colleagues would be surprised at how much SoundCloud and Shazam are part of my everyday world (and I am not just saying that because Shazam is our customer).