Human Resources
Typical 24: Glyn Dodd, Managing Director, Centrex Services
IDG Connect speaks to IT, business and marketing professionals across the spectrum to discover more about their very different, typical working days...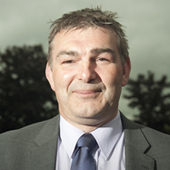 Name: Glyn Dodd
Job title: Managing Director
Company: Centrex Services
Location: UK, Milton Keynes
Years' experience: 16
What time do you reach the office each day?
I reach the office at 8am every day. The early bird catches the worm.
Is your job varied?
Yes, no one day at Centrex Services is ever the same.
Is your job creative?
I would definitely describe my job role as creative and believe it's an important attribute in any business.
What do you spend the majority of your time doing?
The majority of my time at work is spent selling Centrex Services' brand of technology support which enables companies to easily manage their services supply chain.
Do you personalise your desk?
Yes, and I encourage it throughout the business. It's important to personalise your own space to remind yourself of the important things in life. So for me I have photos of my family on my desk, as well as the occasional stress ball.
Would you describe yourself as creative?
Yes, as exploring new avenues in a business inspires entrepreneurial thinking and business progression.
Do you have any quirky daily rituals?
No, I am a man of routine but I wouldn't call any of it quirky, but maybe that's quirky in itself.
Do you tend to work on your own or with colleagues?
I see Centrex Services as a family business which takes pride in its attentive, friendly, personable approach to business and a big part of this is working as a team with my colleagues.
How many hours on average do you work a day?
I average around ten hours a day but I don't think about the time. I put in as many hours as I need to guarantee the business continues to grow.
Roughly how much time do you spend each day on email? Taking calls? In meetings?
I usually spend around an hour and a half on email and the phone and two and a half hours in meetings each day.
Do you use social media much for work?
Not personally, although the business does have a growing presence on LinkedIn.
What do you enjoy most about your work?
The most satisfying part of my work is most definitely when I win a new deal for the company. We strive for continuous growth and obviously winning these deals is an integral part of this.
What type of music (if any) do you listen to at work?
I choose not to listen to music at work, I know plenty of people prefer to work with background music but that just isn't how I work.
What do you do for lunch?
What's lunch?
Do you socialise with work colleagues?
As much as I enjoy working here at Centrex Services, I spend most of my time outside of work with my family so have very little time to socialise with work colleagues.
Are there any tasks (through your career) you've been especially glad to get rid of?
Although it's a vital tool, the creation of management accounts was not a task I enjoyed!
What is your last task of your day?
The final task of the working day is always planning the following day; I like a running start.
How do you like to relax after work?
My family are a huge part of my life and this is reflected in the amount of time I spend with them outside of work. Otherwise I can usually be found enjoying tennis and rugby.
Do you keep checking email through the evening?
Yes, it's imperative to stay on top of progression.
Do you take work projects home with you?
Yes, it is difficult not to take work home. I am very passionate about this business and completing projects at home is almost second nature.
What would you say to your 20-year old self?
Looking back there is one piece of advice I would give myself which would probably change things drastically; buy Facebook shares.
If you could try out any job for a day, what would you choose?
I would love to have the opportunity to try my hand at being the Prime Minister for 24 hours.
What device did you use to answer these questions?
I answered these questions by phone.
Do you use your own personal device for work?
No, I have everything I need for work at my desk so don't need to use my personal device throughout the day.