Human Resources
The CMO Files: Margaret Molloy, Siegel+Gale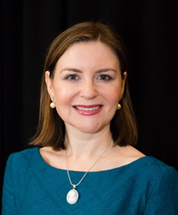 Name: Margaret Molloy
Organization: Siegel+Gale
Job title: Global Chief Marketing Officer and Head of Business Development
Location: NYC, USA

Where were you born and raised?
The eldest of six children, I grew up in rural Ireland on a dairy farm.
What was your first job?
My first job after college was at Enterprise Ireland in NYC, promoting Irish products and services in the US. I'm a very mission-focused person, so this job was particularly gratifying because of its effort to promote Irish products and services, and help the Irish economy create jobs.
What was the first product you got really excited about?
For my eighth birthday I received a turquoise handbag. I was excited about it because it made me feel like a grown-up, and gave me something in which to tote around my prized possessions. I cherished it. Of course it was a generic purse—this was before I discovered the attraction of brands.
Who has been the biggest influence on your career?
Nitin Nohria, the Dean of Harvard Business School, was my LEAD (leadership and organizational behavior) professor, which I took as part of my MBA program. Professor Nohria impressed upon me the importance of human behavior, incentives and culture in leading an organization and effecting change. As I progress in my career, the ability to lead has a far more enduring impact than any domain knowledge.
A big part of leading as a CMO is being a culture carrier. Company culture is the one true advantage that cannot be copied by a competitor. The ability to model culture, and rally people behind company purpose and values, is a constant goal for me.
What has been your greatest achievement?
As a trusted advisor to many CMOs, I help them realize the power of simplicity. We live in a complex world. Business leaders who simplify create better experiences for their customers and superior business results for their companies. Getting to do this every day at Siegel+Gale has proven incredibly powerful.
What has been your biggest mistake?
I don't think in terms of mistakes, rather in lessons learned. My greatest lesson is to be mindful of how much I'm learning in a particular role and the value I'm adding to my employer. I now make sure that my contribution and growth are progressing at an accelerated pace.
What is your greatest strength?
I am a connector. I find inspiration in disparate places and strategically connect the dots to formulate high-impact initiatives. I also connect people in meaningful ways. By connecting people and ideas, I drive breakthrough marketing that grows a company's profile, profit and team pride.
What is your biggest weakness?
Impatience. I only find it stimulating to work in environments that have a strong growth mindset.
What aspect of your role do you think is most neglected by peers?
Simplicity. As CMO, I also take on the role of a chief simplicity officer. Today, there are ever-increasing numbers of channels, technologies and marketing techniques. The job of the CMO is to take all these inputs and prioritize the right initiatives for their company or brand.
Which word or phrase is your mantra, and which word or phrase makes you squirm?
My mantra is "execution is the ultimate differentiator." Great ideas are a necessary but insufficient requirement for success. Many people can articulate compelling strategies; few can mobilize teams to bring them to life. I abhor the phrase, "I don't care." Indifference breeds mediocrity; passion is essential.
What makes you stressed?
Like every parent, striking the right balance between family and career is a constant challenge.
What do you do to relax?

I'm fortunate to have a great group of friends and family, and I enjoy spending time with them. I also relax by browsing social media. In terms of exercise, I'm a fan of SoulCycle.
What is your favorite song?
"This Land Is Your Land," by Peter, Paul and Mary. This song speaks to the importance of diversity and inclusiveness.
Which book taught you the most?
Who Moved My Cheese? A CMO's world is constantly changing. This quick read emphasizes the importance of having the right mindset when faced with change—because how we handle change determines our success.
Do you have a team or sport that you follow?
I'm not a sports fan, but I've recently become interested in following the creations of Irish fashion and jewelry designers. I launched #WearingIrish to encourage friends of Ireland to wear Irish designs during the month of March. This is my way of actively supporting and rooting for a "team."
Which country would you like to work in?
The US has become my home, but my role at Siegel+Gale is global in nature. I'm always excited to visit clients in other countries.
Which company do you think has the best marketing?
For me, the best marketing always occurs when a brand's communications align with the customer's experience. Siegel+Gale helps some of the world's leading companies build their brands. To choose a favorite brand would be like asking a parent to pick her favorite child.
What do you love most about your job?
I enjoy engaging in the art and science of building high-performance teams; combining different talents to create a team where the whole is greater than the sum of its parts. Watching people grow into their best selves, and likewise helping a team rise to deliver on business goals, is particularly gratifying.
What is your favorite book?
Essentialism: The Disciplined Pursuit of Less. For me, simplicity is an essential part of a modern marketer's strategy, and focusing on the "essential" is critical to simplifying. This book provides a framework for how to determine what's essential to professional success and personal happiness. Essentialism isn't about doing less; it's about making a bigger impact.
What keeps you awake at night?
I sleep well, thankfully. But I'm restless about prioritization. Time is our most precious resource and, as a marketing leader, my most important responsibility is to help my team decide how to spend their time to drive the most impact. There are many things we could be doing, so it's important to continually evaluate whether the approach we're taking is the most strategic. The same awareness and balancing act applies to my personal life as well.