Handheld Technology
Associated Press looks to VR for new chapter in journalism
It's an understatement to say that the advent of the World Wide Web led to profound changes for the world's media. As readers moved from print to screen, that shift was accompanied by other trends: from paid to free content and, later, from advertising-sponsored to ever declining cost-per-click models.
Cue the collapsing fortunes of many 'old' media companies and the rise of many smaller, scrappy new ones, as well as moves to exploit niches and a race to the bottom to chase clicks. Some of the resulting fallout has been positive: readers now have direct access to the undiluted thoughts of many non-media experts and other interesting individuals, and words and pictures are supplemented by rich media, for example. Readers can also often directly interact with reporters and the electronic media means no physical restrictions on word-count, plus lower publishing, layout and delivery costs than the 'dead trees' sector.
For many large newspaper and magazine publishers, however, the last 20 years have been traumatic as newsprint sales have dwindled, standards have, arguably, dropped, and journalists and other media workers have been laid off.
It's hard to decide just yet whether the latest Next Big Thing, virtual reality, will have a positive, negative or - maybe more likely - mixed effect on media but some firms are determined to find out by taking baby steps into the world of video walkthroughs, 360-degree cameras, high-fidelity sound and, ultimately, touch and sensation. Enter the 170-year-old Associated Press (AP) news network which is working with semiconductor designer AMD to showcase early-stage VR journalism. I spoke to both parties to get a better understanding of what VR and its related strands can do today in the media and where this all might go next.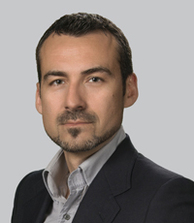 Sasa Marinkovic, global head of VR marketing at AMD, is, understandably, a big booster for the technology but even he believes that these are early days.
"We're in the pre-iPhone 1 stage," he says. "Headsets haven't shipped but pre-orders are doing very well and there's huge momentum, investment and interest. It's very exciting and I've yet to meet anybody who has tried the headset and said 'ah, I'm not very impressed'. It's a completely different way of looking at interactivity. On the other hand we still have a ways to go, but it's the best thing we have ever experienced in the digitally simulated world."
Paul Cheung, director of interactive and digital news production at AP, is optimistic about VR's potential.
"From the news industry point of view there are signs of sustainability when you look at the New York Times virtual reality app and the initial enthusiasm," he says. Cheung sees "huge democratisation" as the differing approaches of Oculus Rift, Google Cardboard, Samsung Gear VR, Mattel View-Master and others battle for attention.
AP has already showcased nine VR story packages that take advantage of 3D walkthrough technology. They come over a little like Google Street View but with more perspective options and audio, and the experience can be jerky and grainy without fast hardware. But Cheung says the process has been a learning experience.
"To be completely honest, we're still exploring how to tell news stories in 360 degrees and one of the learnings is that [some] event-based [news] is not built for 360 degrees. A fashion show is set up for 180 degrees and the red carpet is set up for 180 degrees."
Some feature stories might be a different proposition though and Cheung says AP had success with its package called The Suite Life looking at luxurious experiences such as a $50,000-per-night stay at a Four Seasons hotel and a palatial residence on the Queen Mary liner.
But he also believes there could be VR adjuncts to hard news stories.
"Can we imagine [a VR version of captured Mexican drugs overlord] El Chapo's tunnel? Yes. You could get a sense of that space even if you couldn't feel much."
Another example is what it felt like to be in the Second Line parade against gun violence in New Orleans, or using a VR experience with CGI to explain scientific and medical phenomena.
"That's why we're doing this collaboration: to explore how we do VR for people who have headsets and don't have headsets," says Cheung.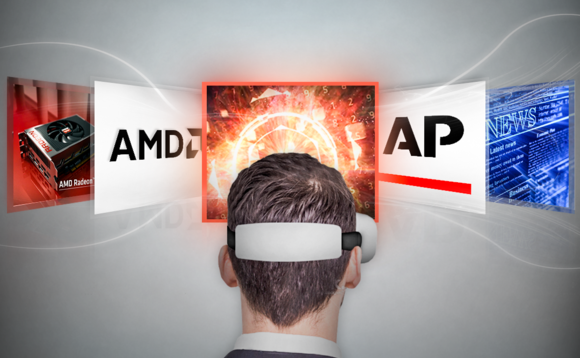 "I think VR is a natural extension to video, like going from black-and-white to colour," he adds. "You used to have make photos with chemicals and could only see 8x10 images, and with digital cameras you could get colour and panorama."
Cheung says editing VR packages vary in terms of effort required. "There's no Adobe version", that is a de facto standard creative program for VR, so there are different ways to handle the post-production, but for a basic 3D walkthrough it's no harder than compiling a video segment.
Providing a silicon perspective, AMD's Marinkovic says that VR can require a lot of processing cycles and the ability to both advance at the processor level and using software to "stitch" together elements and make less demands on hardware will be very important.
"The ultimate goal is to get to 16k [per-eye resolution] and 144 or 200Hz [screen refreshes for fast frame rates] which means the GPUs need to get much faster and the CPUs need to get much better," he says. "But there's a hardware, or hard way, to do it, and a smart way to do it through software."
AMD, like its larger rival Intel, has been buffeted by a flagging PC sector in recent years and the company might view VR as a way to differentiate or add value to the computers and games consoles it powers. But Marinkovic fights shy of saying what the financial potential VR holds for AMD.
"The numbers in the market [predicting the volume and value of VR sales] are oscillating wildly," he suggests. "Personally, I believe this is a huge opportunity because I look at the excitement of people."
And the more those people experience Oculus, HTC Vive, PlayStation VR and so on, the more that excitement will build. Might the commercial release of Oculus Rift at the end of March be a landmark?
"I think the next milestone is not just a release on one device like Oculus but all these [other vendors] placing a bet on sustainability [of VR]," says Cheung. "It has broader applications beyond gaming and news, such as education."
The elephant in the room for media organisations pondering what VR means for reporting and revenues could be the painful web lesson referred to at the top of this story. How will media firms monetise VR? According to Cheung, the attitude at AP is that the company is in testing mode.
"We've been doing this since last August so everyone is in sync on our exploration," he says. "Our number-one focus is on telling good stories. If we tell good stories we can figure out a way to monetise them. At the moment we don't know [what the commercial model will be] but we've started that conversation already and we're ahead of the gate."
VR has a long road ahead but both Cheung and Marinkovic are bulls on the technology.
"One of the delightful things is you'd think you know VR but you don't know anything until you put on the headset," Cheung says. "Time really flies when you're in these immersive experiences."
And for Marinkovic, "The biggest thing was the emotional experience you get [for example in a game] when the zombies are coming to you. You feel what the characters are feeling. I've not experienced that with other content. You feel their pain and you're there in the real time. The surprise is that people are sceptical - but I've tried it and they've not."
As for what Marinkovic believes will be the next big step, he says that the VR component of this week's Game Developers Conference (GDC) event will be a must-watch.
"It's going to be absolutely amazing," he says. "I'd say 'stay tuned'."
Related reading:
Google's Tilt Brush is a magical VR experience
What does Blippar's deal mean for AR?