Mobile Communications
Crowdsourcing Innovation: Ivo Vieira, CEO of LusoVU
Crowdfunding sites are offering a new path for inventors with original ideas. We talk to inventors looking to gain the public's favour...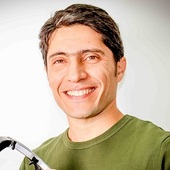 Name: Ivo Vieira
Job title: CEO
Organisation: LusoVU/LusoSpace
Location: Lisbon, Portugal / Knoxville, EUA
Product: EyeSpeak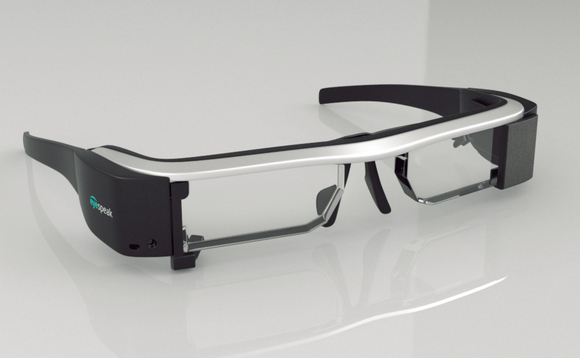 What it does & how it works:
Eyespeak is the first autonomous system with an augmented reality interface by eye-tracking that enables the possibility of communicating through the user's eyes, in any position and orientation of the user's head.
It will consist of a pair of augmented reality glasses that will project a virtual keyboard (or the display of your computer if you connect it to it, by remote desktop) onto your field of view. Additionally, we will have a micro camera looking at your eyes to understand which key you are selecting. After writing a word or set of words, you will be able to select with your eyes the "speak" button that will speak what you have written in a synthetic voice, through a speaker that is integrated into your glasses.
We call it autonomous because the only assistance you need is for somebody to put it on your head and press the ON button. Everything else will be done by you. You won't need any computer or any other device. Moreover, you will be able to use your current computer by connecting the device to it and using your eyes to control the mouse.
What makes it special?
Mobility: You can use it in any position. If you are lying down, turned to the right or left, in your bed or in the chair, moving your head or not, the system is always over your face.
Easy to use: You won't require complicated calibration systems. The first page that appears when you start it up is the virtual keyboard. Voice recognition will also be part of the system for device control and applications interaction, for people that are still able to speak.
Robustness: Since the camera is close to your eye, the precision of eye tracking will be much higher than traditional systems.
Speed: We are developing custom electronics, firmware and software to reduce the latency and processing time of the image processing algorithms.
Interactivity: As this will be an optical see through augmented reality system, you can look at someone and see the virtual keyboard in that same field of view. So you can write looking in the direction of the person you are communicating with. The micro speaker is incorporated in the glasses. Thus the voice will come from your face. The person will look at you when hearing what you are saying and you will look at the person when you are communicating with that person. This is the closest you have to speaking with someone. The system will be able to use different voice patterns including your own, with the necessary development.
It will also allow internet navigation and the sharing of photos and films that you take with the glasses, for example on Facebook or sent by email.
Privacy: With or without connection to the computer system it allows you to surf on the internet and write messages without anyone seeing. When connected to the computer, the image of the screen is projected in the glasses, and it can even work with the monitor switched off. This system returns privacy to those who have lost it.
What's your background, and what inspired you to come up with the idea?
CEO, PhD in physics engineering and 16 years working in the space sector, 12 of which as CEO, skilled in managing complex projects.
The idea was triggered after my father received the sudden news that he was diagnosed with Amyotrophic Lateral Sclerosis (ALS). So, after the impact, I am transforming this tragic event into something meaningful, something beautiful, something good. This is why I am totally committed to changing the lives of thousands of people throughout the world. We have the knowledge. We have the experience. And we have the motivation to do it.
Why Kickstarter?
Because another type of financing would require more time, and time is of essence for people with some of these diseases. This campaign aims at gathering the necessary funds to make the product available within approximately 6 months. In case the campaign's goal is not reached LusoVU is still committed to develop the device but it will surely take much longer for the product to be available in the market and therefore reach the people that are eager to have it.
Is Crowdfunding good for innovation? How so?
It is an excellent platform to bring dreams to life for those who want to change the way we live. It is quicker, easier and with controlled risks since it doesn't require complex business plans and considerable investment.
Reactions on KS so far?
We have had great feedback about EyeSpeak and this project. But it's been slow raising funds. It seems that the platform is focused on developments that will aim at a very broad audience and Eyespeak is clearly targeted at a very narrow potential market made up of those that relate to or have pathologies that prevent them from communicating. Nevertheless we believe that more and more people will support us.
What have you learned from your campaign?
We believe that to get the most out of a Kickstarter campaign, the project must show considerable developments at the start of the campaign or be very near its conclusion, at least for a product made for a niche market and whose complexity implies that a reward has to have a significant support per pledge.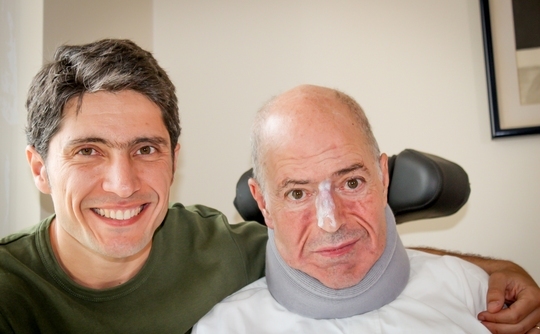 What kind of technology/communication options are currently available to ALS, MD and SCI patients, and what sort of difference could EyeSpeak make to their lives?
These kind of diseases make people lose control of their body muscles. There are several human interfaces already, but eye tracking is currently one of the most promising ones because most of the patients do not lose control of their eye movements. However, there are still some issues with current systems that EyeSpeak intends to solve: first they need calibration and second they're not portable (they need a computer/laptop). If the user changes his/her position, he/she depends on others to recalibrate the system. Hence, our innovative system has significant advantages over current systems: It is mobile, it doesn't need calibration or a specific position and has the potential to be much faster.
Would you say that poor interfaces have been the main downfall of wearable's so far?
In my opinion there are other issues besides interfaces. The main issue is that currently wearables still don't meet people's expectations whether in terms of size, elegance and, of course, interface.
What other applications for EyeSpeak are you looking at?
We are giving priority to this health application but we want to go to other applications like augmented reality, games, teaching, entertainment, tourism, security, marketing, and other applications that developers might come up with.
Aims for the future?
Our priority regarding EyeSpeak is to get financing to put it the hands of the people that need it the most within 6 months. After that build a distribution network that will help spread all over the world its benefits. We will continue to improve this product and increase its maturity. Our key objective is to miniaturize it and decrease its cost.
LusoVu is also investing considerably in a new technology - a fully disruptive optical approach that will evolve Augmented Reality Head Mounted Displays (AR HMD) to reach a whole new level of ease of use and ultimately make them ubiquitous. The Lisplay™ (derived from Lens+Display) puts a transparent display in front of the user's eyes so that the projected image can be added to the real image. This solution is very thin, light, much bigger field of view and has very low power consumption. This technology will surely enable a next gen of AR HMDs.