Power Solutions
Trevor Baylis: The First Shoe Phone Charger… & Practical Patenting
In 2001 Trevor Baylis tested a phone-charging shoe on a 100-mile walk through the Namib Desert – yet the idea never took off. Now a similar invention has caused a stir in Kenya and even caught the attention of Eric Schmidt. Kathryn Cave visits Baylis' house in Eel Pie Island to learn more about being a stunt artist, how he's become famous for solving African problems… and the thorny issue of patenting.
The rain is pelting down in heavy sheets as I make my way over the foot bridge onto Eel Pie Island. Underneath, the Thames is extremely high and flowing at a ferocious pace. It has burst its banks not far up river and people are being evacuated from their homes. This island is tiny, does not allow cars, and maverick British inventor Trevor Baylis has lived overlooking the river since he built his house using a wedge of cash made from being a stunt artist, back in the 1970s.
"Look at the Thames now," says Baylis as we stand in his living room gazing at the raging torrent of water. "If we had found a safe system, the amount of water that has come down in the last few days would have generated enough electricity to have lit up the UK for the next month. You think about the massive amount of energy that has been drawn down the river."
For example he explains how you could have a special pontoon, so the water would rotate a generator - then this house could be lit up all day by the water running past. "And you don't have to be a genius to work out how it works."
"Did you not think about making it self-sufficient when you built it?" I ask. "Well, I did think about it," he said. "But I was more concerned about keeping the water out." Baylis used the earth extracted from digging his swimming pool to ensure the house remained flood proof; a most sensible idea under the circumstances.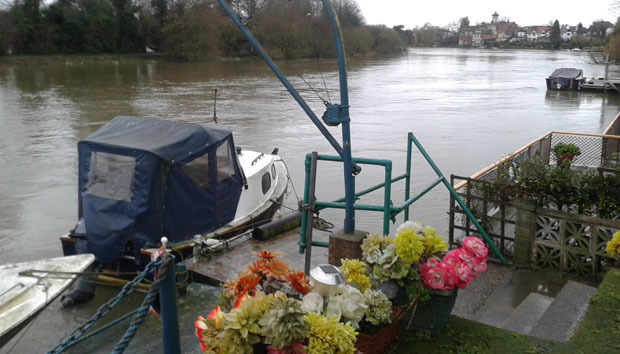 Trevor Baylis is all about practical solutions to make things better for real people. He is most famous for developing the wind-up radio in response to a TV program about lack of communication surrounding HIV in Africa the 1990s. This earned him a place in the Guinness Book of Records along with a record for the first phone charging shoe, which he trialled on a TV trek across the desert in 2001.
"New technology is brilliant, I'm not going to knock it," explains Baylis. "[But] most children wouldn't know how to put a screw in a bit of wood. We have to get kids more hands on. They could teach it in schools. When I was a child I could do the most amazing things with my Meccano set and yet I couldn't write my name." Baylis built his first petrol engine by the time he was 10 with the help of his engineer father and has a firm belief in simple solutions.
Fool-proof Ideas to Help the Disabled
Baylis has had an extremely varied career which has included swimming for Great Britain and working as stunt man in a Berlin Circus. In an escape act called Ramesses II (which his autobiography, 'Clock This', wryly describes as: "I must have been the only blonde pharaoh with a cockney accent in the rich, meandering history of the Nile"), he was dropped into a swimming pool in a sarcophagus… and his trick was to burst out of the coffin to the rapture of the crowd.
Although this was not as dangerous as it perhaps sounds, it did bring him very close to disability. "I had a very passionate affair with a Viennese girl," he says "she was an aerial ballet star, the most gorgeous girl you can imagine. Anyway she fell off the rope, hit the net, bounced off the net, bang - and she died, half way through the show. It broke my heart because she and I were so close. Then you start to realise that disability is only a banana skin away."
This led to the development of a suite of 250 products to help the disabled called Orange Aids which he produced through the 1980s. The aim of these simple gripping devices was help the non-able bodied perform simple tasks, like open a jar of jam. However, like so many of his ideas they never got anywhere.
The thing that did take off and made his name was the wind up radio. Yet once this went into production it was modified to incorporate a battery - rather than clockwork mechanism he patented - and other people reaped the rewards. But even before this success, the radio was rejected by numerous businesses throughout the UK and was eventually developed as a socially responsible scheme for South Africa.
The then named BayGen factory was set up in Cape Town to employ 35% disabled people. Baylis explains: "I think it is important we employ disabled people because they know better than you and me about the problems that should be solved." It was this employment approach that led to an endorsement from an extremely powerful champion – Nelson Mandela himself.
"We have to think of the poorest of the poor, in Nelson Mandela's words. I had one of the greatest days of my life. I spent the day at Nelson's house in Pretoria. What a character. He approved of what I did and he was in favour of employing the poorest of the poor to manufacture my radio. [After that] all the companies that turned me down all wrote to me to say we didn't mean it."
In fact this inclusive employment program became a part of the 'rebuilding South Africa' story in the late nineties. And at the opening speech for a factory which also employed ex-convicts in 1998 Mandela said: "The deep concern that we all feel about crime – and particularly about violent crime – calls for creative strategies of many kinds to rebuild the nation`s soul."
The First African Shoe Phone Charger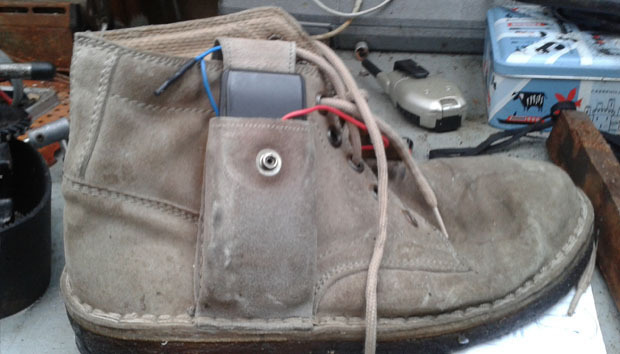 Baylis makes a pertinent connection between difficulties in the developing world and some of the trials faced in wartime Britain (he was born in 1937). "When I was a boy, during the war if someone had a television us kids uses to climb over the garden fence and look in through the window because most people couldn't afford television." Instead they made things, using the materials available.
Today much of the African continent today is still blighted by a lack of electricity. The continent wide mobile penetration may now be very high, but it is unmatched by the ability to charge these devices. So, in 2001, about a decade ahead of the curve, Baylis undertook a 100-mile walk through the Namib Desert, in which he tested a shoe phone charger.
"Richard Branson was the man," he explains. "What happened was there was a society started by Princess Diana, the Mines Advisory Group. [We were] raising money for charity and I thought it was quite a groovy idea to see if I could recharge my mobile phone through my feet and… it worked. But I went there and I couldn't get a signal halfway across the desert."
"The crazy thing is nobody was interested in it," he continues. "Why do you think that was?" I say "Ask me another…" he replies.
The truly astonishing thing is the invention of a shoe phone charger in Kenya has been causing waves over the last few years and was even recognised by Google Executive Chairman Eric Schmidt who said: "Consider 24-year-old Kenyan inventor Anthony Mutua, who has invented a chip that can charge phones with footsteps (a reminder of how problematic the lack of reliable and affordable electricity, and to a lesser extent short battery life, is for many people)."
Intellectual Property Theft as a White Collar Crime
Baylis is passionate about the patenting issues facing inventors and is keen to ensure others aren't blighted by the issues he has faced. "[Helping others] is more important [than building my own inventions]. Because I could do another one, but by the time it comes to market I'll have croaked it anyway. But there are so many people out there who have good ideas who don't have a haven."
He is doing this through his organisation Trevor Baylis Brands which offers advice on protecting ideas and inventions. "I want the theft of intellectual property to become a white collar crime," says Baylis. "[The Metropolitan Police] is very interested. Intellectual property is the most important thing that we have yet kids aren't taught anything about it, which is crazy."
Baylis explains the way patenting works in practice: "You go to a registered patent office and they'll do a scan to see if has been done before. If it hasn't been done before – it is not their job to say if there is a need for the product – then if you decide to file for a patent and you get it written up properly by a qualified patent attorney, who would put it into the patent office where it goes into a secure safe."
"I want this activity to appear on camera in a police station near to you. In other words you've got this bright idea and you want to sit down and discuss it with someone on camera with a patent attorney and member of the police, there you have the evidence that you could use in a court of law if someone were to nick the idea."
He also wants to see practicality brought to the forefront of education and envisages a qualification system for inventors. This would start with a Bachelor in Invention where you would place your patent number after your name. It would progress to a Masters, obtained after you had started your own enterprise and employed a certain number of people. And it would culminate with a Professorship once you go into production big time.
"That means you come to me looking for a job," he says "I could look up the patent number and say cor blimey, she has invented a new teapot. It is the simplest of inventions that can change our lives, both socially and commercially, and that's what I'm interested in. You don't have to be a genius, it's pure chance. I don't get up in the morning and say I'm going to invent something. It doesn't work like that; I have a life. It is an accident. Trip over something and say hang on, let me do it this way or that way."
There is no denying Trevor Baylis has crammed a lot in one lifetime and is keen to stress that his quest for better intellectual property rules is not just about money, but about fairness. "I'm a lucky boy," he says a number of times "I built this house myself. I've got all the big boy's toys. Got a boat outside that needs fixing, hot tub, swimming pool, e-Type Jaguar and Range Rover, what the hell else do you want?"
Kathryn Cave is Editor at IDG Connect