Wireless Technologies
C-Suite Talk Fav Tech: Sudhir Chaturvedi, NIIT Technologies Limited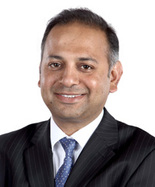 Name: Sudhir Chaturvedi
Job title: Chief Operating Officer
Company: NIIT Technologies Limited
Industry: IT
Location: London, UK
Years' of experience: 20 plus years
What is your favourite personal gadget?
My favourite personal gadget is easily my Fitbit Charge HR - it has taken over my life!
Do you have a favourite piece of personal software?
Everyone loves their first piece of code (Fortran programme for noughts and crosses, in my case) but I do also like our insurance risk aggregation software, its user interface is built around Google Earth and its very cool!
What was the first piece of technology you got really excited about?
I got extremely excited about the Cray Supercomputer for Weather Forecasting (circa 1990) at the Met Office in Delhi, where my uncle worked. I think my PC today has the same computing power…
What device improves your life most at work?
Definitely my iPhone, although I would still love to find a smartphone with awesome audio call quality!
What software keeps you most productive at work?
Perhaps unsurprisingly, it's Outlook. I think email can be a very inefficient mode of communication, but it is still the primary way in which we run our business.
Is there any technology that has become extinct that you would like to resurrect?
Whilst it isn't a technology, I would like to bring back the zeal that programmers exhibited in writing elegant zero defect code (daring testers or other programmers to find a flaw in their 'immaculate creations').
Is there any technology you would personally recommend that you don't think enough people know about? (hardware or software, work or personal)
I'd recommend One Note for inveterate note takers, although by next year I think that the Cortana Digital Assistant will be able to make me appear far more efficient than I actually am!