Mobile Working
Crowdsourcing innovation: Alexander Wesley, Arovia, Inc.

Name: Alexander Wesley
Job title: President
Organisation: Arovia, Inc.
Location: Houston, TX, USA
Product: SPUD (Spontaneous Pop-Up Display)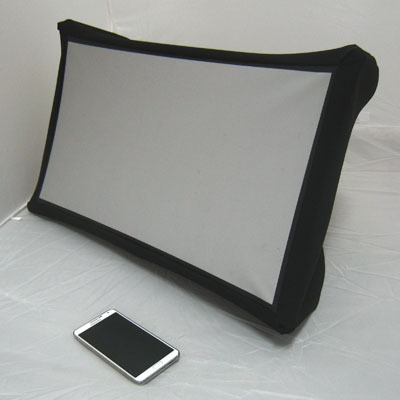 What it does & how it works:
SPUD is a high resolution 24-inch screen that collapses & expands like an umbrella. Easily connect devices for entertainment or work anywhere!
What makes it special?
SPUD is the first collapsible display and first non-rigid display brought to market.
What's your background, and what inspired you to come up with the idea?
I have a background in optical engineering (B.S./M.S. Optics University of Rochester), product development (3 years as product manager on next generation optical sensor), and also have a MBA (but spent entire time in MBA working on Arovia/SPUD). When I was travelling the world as a product manager I really did not like working on my small laptop screen and needed a large and portable desktop sized screen. Nothing existed so George Zhu (one of my co-founders, other being Justin Mintzer) and I made it. Since working on SPUD we found that there is a myriad of use-cases beyond the professional: movies, games, TV, field engineering, construction, filmography, disaster response, military etc. SPUD turns anywhere in your house or the world into your office or living room!
Why Kickstarter?
We judged that the Kickstarter community was the right community to demonstrate that a collapsible display solves a lot of problems for a lot of people.
Is Crowdfunding good for innovation? How so?
Yes, Crowdfunding democratizes ideas/early prototypes so they go beyond the boardroom or investors and directly to the people who would benefit from them.
Reactions on KS so far?
Very positive. My favourite part of the Kickstarter so far has been the community and responding to messages and comments! I truly believe that the Kickstarter community is a part of our team now. My, and our team's, paramount responsibility is cultivating that community and providing not only the world's first collapsible display to the community but, also a product that provides significant value to improve their lives.
What have you learned from your campaign?
I have learned first-hand how awesome the Kickstarter community is! The community cares so much about your product that they are willing to not only pre-buy but provide incredibly valuable feedback to further refine our product. I am very grateful for the opportunity to work on SPUD and be on Kickstarter.
Where you surprised with the level of success your campaign has had? Why do you think people have supported you so strongly?
My standpoint with SPUD has always been that if someone besides me found value in SPUD that would be really cool (because we really did build SPUD for me originally). It's very surreal that so many people are willing to be a part of our early adopter community and we are very grateful! I think they have supported strongly due to the use-cases/value of SPUD!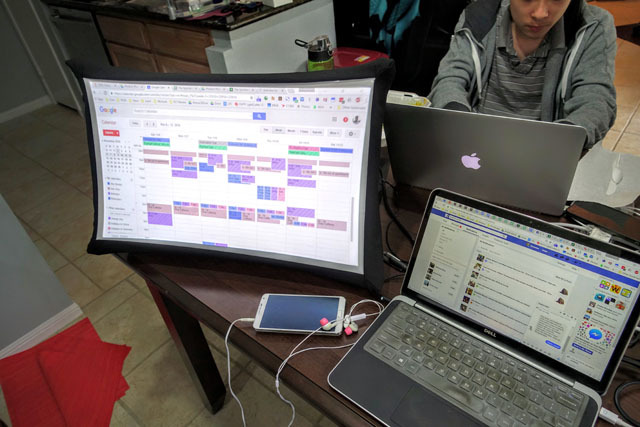 Where do you see people using SPUD? Could it eventually replace conventional desktop screens?
I'm using my SPUD replying to this because I work at a variety of different locations (e.g. currently at our prototyping space but also work at home, co-working spaces, hotel rooms etc.) and consume content everywhere (used it to watch Luke Cage on Netflix in bed last night). We have heard of people wanting to use SPUD everywhere: oil rigs, disaster relief zones, outer space. The main value of SPUD is that it untethers you from unnecessary location anchors so you can do whatever you want to do wherever you want to do it, unencumbered by your small mobile device screen. In terms of replacing the conventional desktop screen, I hope we help obsolete the idea of a desktop because with SPUD you can do more in more places.
Possible business use/advantage?
We have had interest from major corporations to use SPUD for their mobile workforce.
Aims for the future?
Currently, we are focused on delivering a high quality product to our Kickstarter backers. We take it very seriously that we just promised a significant number of people that we are going to deliver SPUD. There are a lot of different permutations (e.g. screen size, O/S, interfaces etc.) that we can do in the future with SPUD as well as a lot of different sales channels (retail, B2B, government etc.) and will use what we learn from the Kickstarter to make a more informed decision.