Analytics Software
Rugby player data offers plenty for hackers and companies
Data analytics to inform key strategic decisions in game-play has become huge in the sporting world. The NFL has been using GPS units for some time now to track player movements and predict future performance. Formula One teams use sensors on cars to anticipate and predict things that might go wrong.
The world of rugby is not as flashy as the fast and furious world of Formula One, but it is getting in on the data analytics action. Rugby players are tracked on their movements in real-time with GPS units placed inside their shirts. The GPS unit (worth $1470 – $2940) gathers around 800 data points on a variety of things like contact between players and g-force of collisions - all to inform coaches on strategic play.
"The science isn't perfect but we can tell when the unit turns and pauses for two seconds," says Nick Gallagher, academy strength and conditioning coach at London Irish rugby team. "We can tell the pressure the scrum goes through and how long it lasts. You can get pretty technical with these but it's how we use the information. We are starting to know when players are in possession of the ball and what they are doing while in possession. We can also tell how long the player is spending in contact with the ball."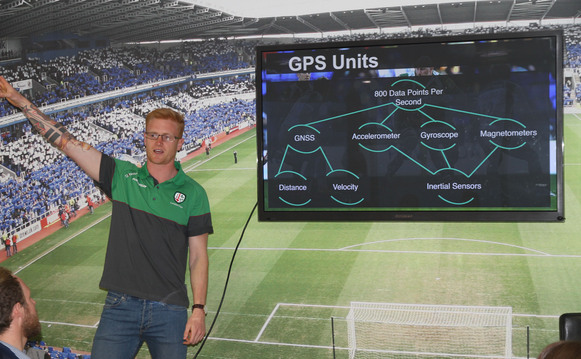 Nick Gallagher explaining how players are tracked
Gallagher handles the data analysis at London Irish rugby team and is speaking to me and a group of journalists at the Madejski stadium in Reading. We are here to get a tour of the stadium and learn how data analytics is used by the London Irish rugby team to inform and advise coaches on handling game tactics.
During the tour we are told that the team has three main coaches and three analysts that focus on different aspects of the game. One analyst focuses on fitness and makes sure the player does not go into the red zone. Another looks at attack tactics. At half time the coaches relay information down to the waterboys (coaches) on the pitch side. We are told the coaches are usually in a mad rush to get in the lift quickly to speak to their team first before the opposition get a chance to speak to theirs.
Each player has about 3,000 pieces of information gathered on them throughout the season. For the coaches it is helpful to know the "distance and velocity" covered by the players so that if the coach knows the player has run too much, the chances of future injury can be minimised.
But as each aspect of data on a player is gathered – the advantages for a hacker to get hold of this information are numerous.
"If a hacker gets hold of the GPS database, they will know the player's total running distance and see if one player is not performing as expected. They will be able to see who's the strongest and fittest," says Gallagher.
The hacker will also be able to see a player's weak points and take advantage: "If you know you have a back-row that isn't very fit, you can keep running at him until he tires out and eventually makes a mistake," Gallagher says.
The data analysis team also monitors heart rates and other personal information. One rugby player tells us how their "wellness" is monitored. Players are asked about how many hours they have slept and what mood they are in. Coaches also track how hard the players are training.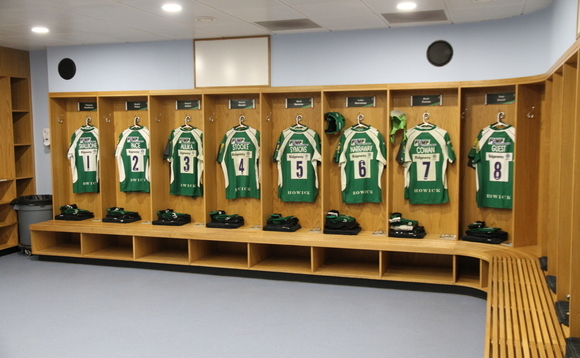 Changing rooms
How much do the coaches rely on the data to make decisions? Gallagher admits that sometimes there is a back and forth but ultimately the coaches listen to the data analysis team "a solid 90% of the time".
"There's very few times they will try to argue against the data. Players try to have some input like trying to test positive on certain fitness tests but you quickly find out!"
But how far is too far? Suppose the player decides to move teams and his data history shows exactly how many injuries he's suffered, how hard he has trained and his general mood and behaviour. All this data could have huge implications on the provisions of his new contract going forward.
Sian John, Chief Security Strategist at Symantec also cautions against the security implications of these GPS devices.
"As we have more valuable data out there, there is more appetite for getting access to it. A lot of people are good at developing sporting tools but not necessarily thinking about the security issues that come with that."
All of the data gathered here at London Irish is kept in-house. But increasingly companies are seeing commercial opportunities for player data. Earlier this year in a surprise move, data and betting company, Sportsradar signed a reported $70 million five-year deal with the International Tennis Federation to get exclusive access to real-time scores and statistics at ITF tournaments. For the betting sector this deal is a real win as it gives customers more betting options gathered from real-time data.
During the discussion, Gallagher is asked whether he sees similar things happening in rugby.
There is a general consensus around the room that rugby does not have the same betting culture as some of the other major sports like Tennis and Football. But Gallagher says that Catapult, the company behind the GPS tracker units plans to provide "all premiership clubs with GPS units" so BT Sport can selectively use some of the player data, perhaps for live coverage. The audience at home will be able to see more stats around the players, for example, the distance run.
BT will 'selectively' use the player data at first but it is hard to know where the exact line will be drawn. In the beginning it might start with additional player statistics. But it could lead down a slippery slope of more personal information.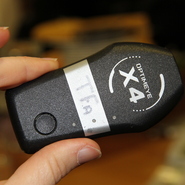 At the moment the GPS units feel quite heavy and there are hopes that in the future, these units will become a lot smaller. The current GPS X4 units only use American satellites but there are plans for the London Irish rugby team to use GNSS tracker units called the "S4" which will make use of both American and Russian satellites to get better coverage.
Gallagher says in the future he would like to be able to use the data to see player career trajectories over time and during in-game analysis to see "how dominant a player is being in their carries and tackles".
"It's also about what is useful to the coach. If we can't influence decisions then there is no point."
Also read
Cameras watch over Twickenham for England rugby's big test