Web, Video and Audio Conferencing
Unify's Ansible Is Here: Will It Be Insanely Great?
So Project Ansible is here, even if it's not called that any longer. For a long time now this technology has been seen as the potential future of communications, a great leap forward for the conferencing and collaboration gods that failed in their original promise.
Today, Ansible comes out of the labs at Unify, the former Siemens Enterprise Communications that has developed this much-hyped cross-platform set of tools. On the eve of the launch, I spoke to Unify CEO Dean Douglas about his plans.
First, that name. Project Ansible (the codename comes from a communications tool in a tale by sci-fi author Ursula LeGuin) has morphed into Circuit, although Douglas concedes that he had doubts over the moniker.
"For some that [word] harkens back to circuit switch but it's a name that speaks to something good and the user base [likes it]," he told me over the phone last Friday from the US where Unify is based.
As Douglas described it, Circuit offers a "single pane of glass" for communications, across audio, text and video – a single, simple, intuitive, elegant answer to the need to converse, without being in the same room and using a wide variety of devices and platforms.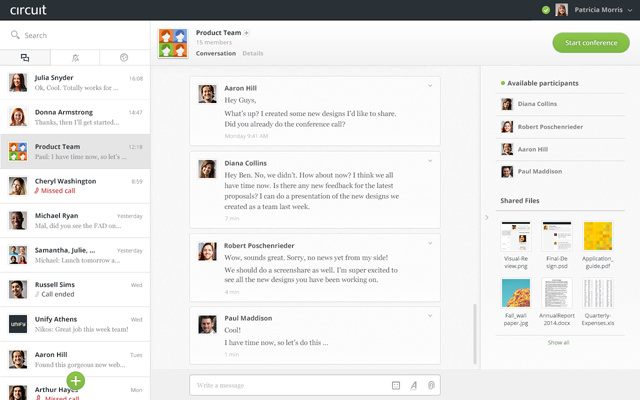 Douglas is extraordinarily bullish on Circuit.
"I can't underscore enough that this is the consummate mobility product of our age," he said, sounding not unlike Steve Jobs announce the latest magic box.
It's the sort of heavy push that has had technology industry watchers anticipating something "insanely great" to use Jobs' words again. It has been talked of as an iPhone for comms and, like Apple, Unify is being very cagey about details until the official announcement today.
"If you think about the traditional IT way of doing things, you [usually need] to find your telephone book and use hierarchical tools but the brain doesn't work that way," Douglas said. "The brain is more cognitive and is more about snippets that are brought together from memory and whatever you've got. [With Circuit] you just type in the name of the person and it comes up much like in social media."
Douglas is making a big deal out of seamlessness and the way that Circuit will automatically switch between communications modes depending on bandwidth available.
"Irrespective of what device you have, iOS or whatever, the mobility is remarkable to the point that you can retain a conversation moving from network to network and the conversation modifies itself accordingly."
So a fast LAN or WAN connection might use high-def video and a slow link swap out to text-based communications, for example.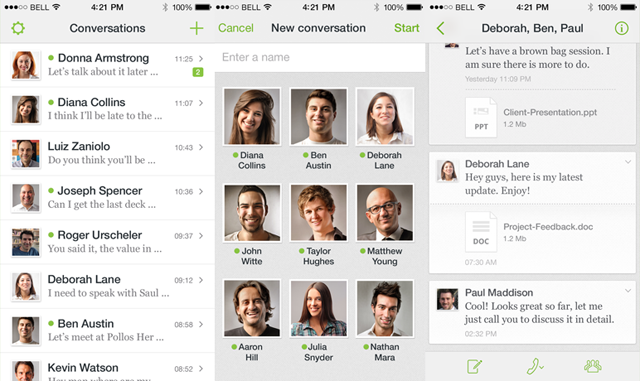 Douglas wouldn't anticipate today's announcement by revealing the Circuit product roadmap but he disclosed that some strategic changes were made when he took over as CEO 10 months ago.
"We enhanced the product to address the enterprise space as opposed to it being more of a one-off business user deal," he said. "We think there's a tremendous opportunity to take advantage of communications needs."
That strategy included making the Circuit user interface the planned UI across Unify products in the future.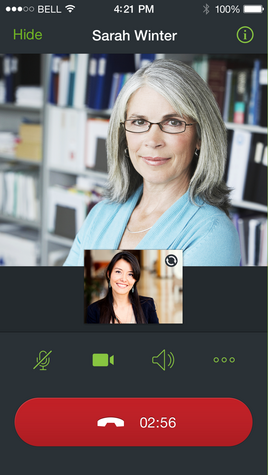 How big will Circuit be or how big could it be? Despite his bullishness, Douglas gave me short shrift on projections.
"I don't care if we have 20 million or one million users; if we're getting new customers, that's success."
There will be no "massive fiscal revenue tsunami" with immediate effect and there will be free subscriptions for some early adopters. But Douglas expects Circuit to be accretive thereafter as his go-to-market triumvirate of a direct sales force, partners and alliances swings into effect, targeting line-of-business managers.
Unify could perhaps have signed up with one or two key big names but Douglas said he "didn't want to constrain our freedom of action or compete with our customers … we're not going to play favourites."
A result of the frustrations of working with existing conferencing systems is the current fragmented marketplace. "Most companies are using some sort of collaboration suite but they're all over the board," Douglas said.
It's that world of pain he is seeking to address with today's Circuit launch that will be backed by heavy-duty marketing, social media and advertising.
Unify CEO Dean Douglas talks in more detail about his strategy for the company here.