Human Resources
C-Suite Career Advice: AJ Forsythe, iCracked
We ask industry leading C-suite professionals for their expert career advice...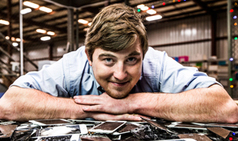 Name: AJ Forsythe
Company: iCracked
Job Title: CEO and co-founder
Location: Redwood City, CA, London, Berlin
What was the most valuable piece of career advice that you received?
Hire slow, fire fast. Talent reigns supreme in any company, but particularly a rapid-growth start-up. We invest in employees so need to put real time and effort into the hiring process, and hiring isn't just about expertise in that potential employee's trade. Maintaining the culture of iCracked is incredibly important, and plays a huge part in the way we hire. We look for triggers on how this person will interact with not only his or her immediate team, but how they will blend in with the company as a whole. We spend a lot of time together and it's much easier to move as fast as we do when we have a team that is a well-oiled machine personally AND professionally.
What was the worst piece of business advice that you received?
We were told by an advisor of the company NOT to take the offer to enter Y Combinator. They thought it was insignificant. I will argue that entering YC has been one of the greatest decisions we've made.
What advice would you give to someone starting their career in the tech industry?
Based on most models (for tech), the amount of change from the last 30 years should happen in about the next 8. Move quickly.
What tips would you give to someone aiming for a c-level position?
Learn how to hide your panic.
Are you particularly proud of any career advice that you've given or the career route/development of anyone you've mentored?
You either have to be the first or the best in your industry. Being the first is riskier, but being the best is harder.