Human Resources
Typical 24: Ondrej Vlcek, Avast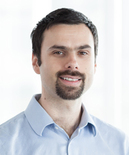 Name: Ondrej Vlcek
Job title: CTO, EVP & GM
Company: Avast
Location: Prague, Czech Republic
Years' experience: 20+
What time do you reach the office each day?
8:30 AM
Is your job varied?
Very varied. You never know what will come up the next day!
Is your job creative?
It is creative in the sense that many times, I have to improvise.
What do you spend the majority of your time doing?
Talking to people, running from one meeting to another, reading and writing.
Do you personalise your desk?
A little bit, yes. There's a few things I like to see around.
Would you describe yourself as creative?
Absolutely!
Do you have any quirky daily rituals?
Not really…
Do you tend to work on your own or with colleagues?
Very much with colleagues, but I appreciate the moments when I get to write the most.
How many hours on average do you work a day?
About 12 hours a day.
Roughly how much time do you spend each day on email? Taking calls? In meetings?
3 hours on email and 5 hours in meetings (of which some are over telephone).
Do you use social media much for work?
Does Slack count?
What do you enjoy most about your work?
The feeling that we're changing the world, the responsibility connected to it, the constantly changing environment around us, the colleagues, the thrill of success (and failure)…
What type of music (if any) do you listen to at work?
No music.
What do you do for lunch?
Enjoying the great food in our wonderful canteen, together with the colleagues.
Do you socialise with work colleagues?
Not often enough.
Are there any tasks (through your career) you've been especially glad to get rid of?
I always tried to enjoy all aspects of the work, although sometimes it is hard.
What is your last task of your day?
Cleaning up the inbox.
How do you like to relax after work?
With the family (the kids know how to get me engaged).
Do you keep checking email through the evening?
Yes, all the time.
Do you take work projects home with you?
Yes.
What would you say to your 20-year old self?
Don't worry, be happy.
If you could try out any job for a day, what would you choose?
Politician.
What device did you use to answer these questions?
PC
Do you use your own personal device for work?
No, everything is provided by the employer.