Human Resources
Typical 24: Wieland Alge, Barracuda Networks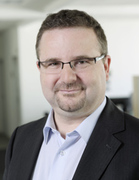 Name: Wieland Alge
Job title: VP and GM, EMEA
Company: Barracuda Networks
Location: Innsbruck, Austria; Basingstoke, UK; Campbell, US; and several airports.
Years' experience: 15
1. What time do you reach the office each day?
Around 9am, if I'm in the office at all.
2. Is your job varied?
I would say so.
3. Is your job creative?
Partly, although more on a conceptual level.
4. What do you spend the majority of your time doing?
Multitasking! I juggle detailed work on strategic topics and steering operational processes.
5. Do you personalise your desk?
If creating a mess counts!
6. Would you describe yourself as creative?
Yes.
7. Do you have any quirky daily rituals?
I wouldn't say rituals, but I do spend at least 30 minutes a day having funny and (sometimes) insightful chats with colleagues, exploring the absurdities of life, the universe and everything.
8. Do you tend to work on your own or with colleagues?
I need interaction at work. If I work alone for too long I become very odd, or at least that's what my colleagues say!
9. How many hours on average do you work a day?
10-12 hours a day.
10. Roughly how much time do you spend each day on email? Taking calls? In meetings?
4-6 hours a day.
11. Do you use social media much for work?
I'd say I use social media moderately at work.
12. What do you enjoy most about your work?
I love the diversity of my job.
13. What type of music (if any) do you listen to at work?
I don't listen to music at work.
14. What do you do for lunch?
Typically I don't do anything for lunch.
15. Do you socialise with work colleagues?
Yes, a lot.
16. Are there any tasks (through your career) you've been especially glad to get rid of?
I was happy to see the back of detailed operational management!
17. What is your last task of your day?
I like to end the day feeling organised by creating a 'to do' list for the next day. If the list is too long I'll tackle some of the tasks straight away.
18. How do you like to relax after work?
Enjoying a beer with colleagues. This may not be a relaxation technique recommended by doctors but I find it highly effective!
19. Do you keep checking email through the evening?
Yes.
20. Do you take work projects home with you?
Yes.
21. What would you say to your 20-year old self?
Enjoy your freedom and do stupid things, but be aware that eventually you will have to get serious.
22. If you could try out any job for a day, what would you choose?
As a student I spent many months working in joinery and I often think back to those days. I would like to spend some time working in joinery again, enjoying the smell of sawdust.
23. What device did you use to answer these questions?
My notebook in the docking station. Typing and thinking things through works best for me, as long as I have a proper keyboard.
24. Do you use your own personal device for work?
Yes, my tablet and smartphone.