Wireless Technologies
C-suite talk fav tech: Simon Culmer, Avaya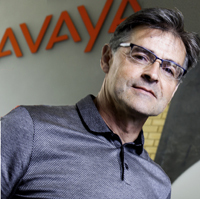 Name: Simon Culmer
Job title: UK Managing Director
Company: Avaya
Industry: Telecommunications
Location: Guildford, UK
Years' of experience: Over 32 years
What is your favourite personal gadget?
I'm a massive Apple fan so I carry most of their devices around with me like the iPhone, iMac and even the iWatch. My favourite personal gadget has to be the iPhone as I use this device all the time. It means I can run both my personal and my work life from a single inbox, anywhere in the world.
Thanks to advances in unified communication and video technology, I check emails, voicemails, IMs and I even run team calls for the entire UK team from my phone using our video conference tool capability. If like me, you remember the bricks of the early nineties, you'll understand why I'm such a fan of the smartphone and all it can enable!
Do you have a favourite piece of personal software?
My favourite piece of software is definitely a video collaboration app. It's totally revolutionised my life! I use Scopia – it works on any device, in any location. Personally, I use it at home, from the office, in hotel rooms – even on trains and in the carparks of motorway service stations. Thanks to video conferencing software, I can participate in any meeting, regardless of where I am in the world and share content, discuss key challenges and ultimately make faster decisions – I think it makes me a better boss and a better team player. Beyond work, my wife is also a fan as the software has made me more productive in my personal life. I use it to quickly plan my day or week from home using the apps it features, and this means I actually get the odd-jobs she's asked me to do, done!
What was the first piece of technology you got really excited about?
Transport yourself back to 1974 if you will. I was just a young lad starting out in the tech industry, training to be a computer programmer. One day I was introduced to the SPERRY UNIVAC Teletype terminal. It connected via an acoustic coupler to a phone but I was so incredibly excited to be able to use it. Why? Because it made me more productive and it improved my working week immeasurably – the hallmarks of any great B2B technology, even today.
Before I had access to the SPERRY, every week I had to take a very heavy suitcase, full of punched cards on the train to London to visit a computer bureau. When I finally arrived at the bureau, I would hand over the punched cards and wait for the batch to run. I spent many a long day debugging mine and others programmes before making the long journey back to the office. The SPERRY gave me back 20 hours a week and saved the company my train fares too – and best of all I never had to debug another programmer's poor code.
What device improves your life most at work?
Video technology, accessed via any of my devices, saves me a serious amount of time. There hasn't been a single working day in the last four years where I haven't used it to collaborate with my colleagues dotted around the globe. I can easily engage and collaborate with several people to get the job done quicker and more efficiently. You can't overstate the benefits of face-to-face collaboration – it's so incredibly powerful. For instance, yesterday I was in Edinburgh speaking to my counterparts in Santa Clara, California. Despite the team being on the other side of the world and eight hours behind, we had a really fruitful discussion and reached some important decisions.
What software keeps you most productive at work?
Video conferencing apps make me so much more productive at work. For example, I use Scopia software to interview candidates for the first time, which is game-changing really when you think about it. You can see their emotions or any concerns during the interview that a phone call simply wouldn't offer. It also allows you to interview the best talent regardless of their location, which eliminates unnecessary travel time and throws the talent pool wide open.
Is there any technology that has become extinct that you would like to resurrect?
Newer technology is faster, more efficient, better quality, more accessible and overall has better specs so why would we want to resurrect anything that has become extinct? I think we often look back at the world with rose-tinted glasses and forget how hard some things were. Did you ever try WAP for example? Why would you want to go back to it when we have 4G? I have to say that there's nothing about the tech we've given up that I feel nostalgic for – not even the life-changing SPERRY and to be honest, I wish some technologies would hurry along the path to extinction, like audio conference calls which are really outdated and unproductive.
Is there any technology you would personally recommend that you don't think enough people know about? (Hardware or software, work or personal)
Again, I would personally recommend Scopia video conferencing to colleagues, friends and family. I genuinely use this technology every day within the business, particularly with more business customers. Similarly when keeping in touch with family abroad. Once people try the multiway call, they never go back to regular and fragmented conference calls.
Do you think anything about your personal use of tech would surprise your colleagues?
Colleagues from years ago would be surprised by nearly all the tech I use – simply because it didn't exist then. Cloud computing, mobility and advances in networking have created a step change in the way we consume technology. The whole concept of mobile apps would have been unthinkable to my colleagues and me when I first started work. Yet this summer I went to the first test of the Ashes at Glamorgan Cricket Club and the stadium was full of photographers and journalists using Wi-Fi to tweet pictures and file stories. Sporting venues are already looking into using virtual reality to enhance the experience of fans even further. Research shows that cloud-based apps will continue to rise in favour and prominence for both consumers and businesses. In fact, IDC found that cloud IT infrastructure will account for one-third of overall end user spending on enterprise IT infrastructure in 2015 - an increase from 27 percent in 2014. The pace of change in technology is exhilarating and I use as much of it as I can in my personal life – for example, I met my partner on Match.com about seven years ago and I hope to get a VR headset. Does that surprise you?