Human Resources
Typical 24: Simon Moss, Pneuron
IDG Connect is looking to speak to IT, business and marketing professionals across the spectrum to discover more about their very different, typical working days…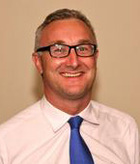 Name: Simon Moss
Job title: CEO
Company: Pneuron
Location: New York, New York, USA
Years' experience: 20+
1. What time do you reach the office each day?
7 a.m. during the week and 10 a.m. on Saturdays and Sundays
2. Is your job varied?
Yes – and this is the reason why I do what I do. Being the CEO of a startup is tough but I work with incredibly smart, creative people. So what I do each day is quite varied.
3. Is your job creative?
It is. A typical day could look like writing a white paper, then hopping on a sales call to host a demo. After that, I might author a blog post, and then meet with my team to strategize. I'm never doing the same thing; every day and hour is different and wearing all of those different hats requires quite a bit of creativity.
4. What do you spend the majority of your time doing?
A lot of things – I do everything from making sure we are meeting compliance, talk to analysts, work with the team, reading/writing collateral and meeting board members. On the more intellectual side, I can be found mulling over our strategy and constantly checking to make sure we are heading in the right direction. When you build your own company, you find yourself worrying about these things constantly.
5. Do you personalise your desk?
I have pictures of my kids, but otherwise my desk is covered in my ideas and drawings.
6. Would you describe yourself as creative?
Yes – and sometimes to my detriment! Luckily, my team brings structure and focus to my wild ideas. I am creative, and do I think it is one of the most important and valuable aspects of being a good leader, but it must be combined with the structure and humility to create value.
7. Do you have any quirky daily rituals?
I tend to draw everything, to visualize it – organizations, messaging, strategy, competitors, ideas, even financials. Visual relativity helps me a lot – graphs, pie charts, spider diagrams, even scribbles simplify problems so much it not only gets to the crux of an issue quickly, forces you to simplify complex problems in relative simple terms and also highlights impact and dependencies very efficiently. Means my desk is covered in scribbles and pictures though.
8. Do you tend to work on your own or with colleagues?
I trust my colleagues to do their jobs brilliantly. If I am working with them, it's generally because they need my advice or vice versa, so I do tend to work more on my own.
9. How many hours on average do you work a day?
A lot.
10. Roughly how much time do you spend each day on email? Taking calls? In meetings?
We are a virtual organization, so we use Skype, email and the phone constantly – I would say about 60% of the day.
11. Do you use social media much for work?
I do use social media quite a bit; my favorite tool is my blog. I enjoy Twitter as well; social media is incredibly powerful.
12. What do you enjoy most about your work?
I love being able to learn something new everyday. I learn something new from someone in my team every single day. I also love doing something radically different, challenging orthodoxy, the inertia of "pushing the square wheel", when a different perspective, a different approach makes that wheel round.
13. What type of music (if any) do you listen to at work?
I'm a huge fan of the Kaiser Chiefs as well as the Arctic Monkeys, Fat Boy Slim. I'm very into English independent music – like Oasis, but I also appreciate some of the North American independent bands like Arcade Fire.
14. What do you do for lunch?
I grab a sandwich and carry on with work, sometimes I catch up with the BBC. I suppose I have adopted a bit of a North American attitude when it comes to how I spend lunchtime. Though I do miss living in Paris and their ways with lunch.
15. Do you socialize with work colleagues?
We do when we can, but we are very dispersed, so we tend to babble on the phone more than go out for drinks. I consider my direct reports my friends.
16. Are there any tasks (through your career) you've been especially glad to get rid of?
Yes. I reorganized companies for a couple of years – it was soul sapping. I would tell people when a company needs to be cut in half. It was heart-breaking. After that, I said I will never do it again and I built this company instead. We have stability, strong healthcare and life insurance at Pneuron; you're dealing with people's lives, children, mortgages. The last decade has seen a change – in which capital has become more important than skills, than people. I believe treating human resources as fungible will backfire and we deliberately avoid such a culture. So I'm glad I don't have to reorganize companies anymore. Success is just not possible without outstanding people.
17. What is your last task of your day?
I watch "The Daily Show." Even if I am going to bed early, I try to catch up from the night before.
18. How do you like to relax after work?
I hang out with the kids and friends. I also garden – I keep a moon garden, which consisted of plants that only come out at night. They are stunning plants and I find the process profoundly therapeutic.
19. Do you keep checking email through the evening?
I do but I wish I didn't.
20. Do you take work projects home with you?
Again, yes, I do, but I wish I didn't.
21. What would you say to your 20-year old self?
Don't ever move to the suburbs. Raise your kids in a city – don't move into the sticks! There's more culture and movement in the city. I'm a city kid and I miss the vibrancy, the movement of a city. I can't complain though.
22. If you could try out any job for a day, what would you choose?
I am a bit of gossip. I would like to be a marriage counsellor—I think that would be awesome. I love listening to people's problems and I think I would be an awesome marriage therapist. I am not sure what other people would think though – I would probably laugh too much.
23. What device did you use to answer these questions?
I used the telephone, but I did try to use my Mac.
24. Do you use your own personal device for work?
Yes, I use my iPad and my Mac.