Wireless Technologies
C-suite talk fav tech: Greg McCulloch, Aegis Data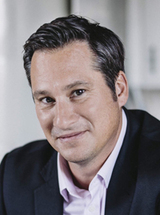 Name: Greg McCulloch
Job title: CEO
Company: Aegis Data
Industry: Data centre provider
Location: Godalming, Surrey, UK
Years' of experience: 20+
What is your favourite personal gadget?
It's hard to choose just one so I would say the GoPro or Garmin (for the bike). I am an avid cyclist and love to document my cycling, so any technology to help with this is definitely on my top list. The GoPro is a really nifty gadget and the fact that it's so durable is a huge plus - especially as I've had a few cycling mishaps - yet the GoPro is still fully intact and going strong!
I'm also a big fan of the Garmin sat nav's. I enjoy doing a lot of off-road cycling but with this comes the inevitability of getting lost. The sat nav helps me stay on track and explore new areas at the same time as well as allowing me to track my data, such as journey duration, routes etc.
Do you have a favourite piece of personal software?
It's got to be yet another cycling software, Strava. Strava allows you to track your running and riding with GPS on a mobile phone app. You're also able to share images, join challenges and communicate with the wider biking community – perfect for me as I get really competitive when biking, and which has been further fuelled by the Olympics. Combining Strava with my GoPro and Garmin works hand-in-hand and shows how effective technology can make an experience.
What was the first piece of technology you got really excited about?
It's got to be the Atari. This was the first gaming device that really struck a chord with me with great games such as Pac-Man and Asteroids. It was the real gaming technology that kick-started a revolution and still continues to inspire generations today.
What device improves your life most at work?
The smartphone. A few years ago, mobiles were strictly about text messaging and simple call functionality. Now, smartphones can access the internet, emails, have endless apps to boost productivity - the options are endless. Business-on-the-go has been reinvented from laptops to a device that can fit quite nicely in your pocket and that's definitely a big plus for companies in today's business climate.
What software keeps you most productive at work?
A lot of resources are spent on accounting. The software Quickbooks is a great tool that can really streamline finance process, which saves me a lot of time to work on other aspects of the business. It provides a clear and easy-to-read dashboard and means that I can also sort out any urgent invoices or POs whilst on-the-go through my phone.
Is there any technology that has become extinct that you would like to resurrect?
I think most of the technology that exists today is basically a resurrection of previous successful technologies. As time's progressed, so has the requirement for technology to meet consumer demands. The example of Atari is one that exemplifies this, new consoles such as the PlayStation 4 or Xbox One have been manifested from the success Atari had but has redefined to match current consumer needs.
Is there any technology you would personally recommend that you don't think enough people know about? (Hardware or software, work or personal)
The mobile app Waze is pretty handy. It's essentially an app for the driving community where you can share travelling updates and see what other people are posting to better plan your journey. As I often commute into work by car, it's good to see if any other commuters are experiencing any issues and help me reroute to avoid having to miss an important meeting!
Do you think anything about your personal use of tech would surprise your colleagues?
I think they would be surprised at my ability to use Instagram, including using image filters and hashtags in image descriptions, which I upload from my cycle trips.