Human Resources
C-suite career advice: Maurice Woolf, Interoute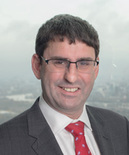 Name: Maurice Woolf
Company: Interoute
Job Title: Group General Counsel
Location: London, UK
What was the most valuable piece of career advice that you received?
I have spent much of my career representing my company in complex negotiations. With this in mind I would actually pick out two pieces of advice I received early on in my career which have always held me in good stead. First, "you have two ears and one mouth, so listen twice as much as you speak." Listening is a highly underutilised skill, many people have the impression that in order to make an impact their voice must be heard (often to the exclusion of others). My own experience is that by paying attention to those around you, by demonstrating empathy, you are much more able to resolve conflict, learn new skills and deliver progress for your business. A strong culture of knowledge-sharing is an essential part of a successful business, and that's founded on good listening.
Second, "never underestimate the power of good humour in negotiations." If you put people at their ease you're much more likely to have a productive discussion than if you go on the offensive from the outset.
What was the worst piece of business advice that you received?
In the feverish period of the internet boom of the late 1990s, investment in infrastructure was arguably out of control. I, like many network operators and service providers, was told that employing a highly speculative "build and they will come" approach to infrastructure and connectivity was a good idea. At that time, it seemed like a no-lose philosophy.
In the end, though, it turned out to be nonsense, as supply far outstripped demand and the same companies lost a fortune. Thankfully since then, many IT companies have taken a much more rational approach to capital investment.
What advice would you give to someone starting their career in the tech industry?
Pick a growth sector. There is nothing more exciting than working for a company that is growing and innovating. There's a real satisfaction in working on the cutting edge - you're breaking ground, and working in a company that's on the up is often a very dynamic and varied experience. The tech industry is home to a growing roster of growth sectors - we saw it with the rise of SaaS and PaaS, for example, and now it's happening again with the Internet of Things and AI. Get in at the start with an industry that has a bright future.
Also, don't forget to enjoy what you are doing!
What tips would you give to someone aiming for a c-level position?
Lead by example and be prepared to take difficult decisions. There are no quick routes to the top - work hard, take responsibility for your team's results and make sure you're pushing for the best, both from yourself and your colleagues. Don't be afraid to stand up and make a call in a tough situation - the most successful companies take decisive action while others ponder. Also, give credit to your team for their achievements. Good leaders build others up and make them feel like a valued part of projects.
Are you particularly proud of any career advice that you've given or the career route/development of anyone you've mentored?
Nothing pleases me more than when staff leave us to take up bigger roles elsewhere. It's a sign that they've grown while they've been with us, and that their time at the company has been valuable to them. In my area of legal matters I am delighted to see heads of department, VPs and general counsels who previously shared some of their journey with Interoute taking advantage of the international, multi-cultural, multi-disciplinary experience it offers to develop their careers.