Human Resources
Typical 24: Sabrinath S. Rao, Commvault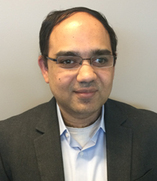 Name: Sabrinath S. Rao
Job title: Senior Director and Head of Cloud Business Unit
Company: Commvault
Location: Redmond, WA, USA
Years' experience: 16
1. What time do you reach the office each day?
My work day starts as early as 6 am.
2. Is your job varied?
Absolutely, and that is the fun part. There is not a typical day, or for that matter, a typical job description that I follow as we expand the company. It could mean spending a morning talking to the customer about their requirements, designing a go-to-market campaign with my team in the afternoon, and mapping out product strategy for the next few quarters in the evening.
3. Is your job creative?
Absolutely! The biggest role that creativity plays in my job is determining how we price and partner and how we position ourselves competitively to reflect the unique value we deliver.
4. What do you spend the majority of your time doing?
Given that customers are at the forefront of CommVault's business, most of my time is spent in engaging with customers and communicating their requirements to our technical experts in Engineering. I also extensively study the market dynamics, and ensure that we stay ahead of the game. It is important to relay this data on a continuous basis to our engineering teams.
5. Do you personalise your desk?
I have two desks – one at HQ and one at my remote location in Redmond. I personalize my desk with books like Consumption Economics and In Defence of Capitalism. I find myself referring to Consumption Economics more and more these days.
6. Would you describe yourself as creative?
I take a concept and make it real. Whether it is a contractual agreement or a new product set, it goes through several layers of processing before it becomes a product. I apply my creativity in how I manage and create a win-win for my customer, product, business and organization.
7. Do you have any quirky daily rituals?
I always walk in or out a door facing forward. This is something I learned from my dad. To me, it signifies that that no matter how the day is going, every step is a step forward. Every experience is an opportunity to learn and move forward.
8. Do you tend to work on your own or with colleagues?
I collaborate with my team and to ensure that each one of us feels a sense of ownership. In that way, we are each individual owners of the business and together we grow the business to new heights.
9. How many hours on average do you work a day?
The joy of driving "hair on fire" innovation is that there is no average or typical day. I set a goal for the day and I work until the goal is met. Sometimes it is as early as 4pm, other days it is past midnight.
10. Roughly how much time do you spend each day on email? Taking calls? In meetings?
Majority of my work day is spent collaborating via email and phone calls with my international team.
11. Do you use social media much for work?
Regularly! Industry blogs, LinkedIn and Facebook are my main references for work. Social media is also an integral part of CommVault's communication, including the content we curate on our own blog.
12. What do you enjoy most about your work?
I am grateful to have a highly talented and a highly motivated team. Brainstorming ideas and working with my team to take concepts to reality is what makes my job an enjoyable one.
13. What type of music (if any) do you listen to at work?
I enjoy classical music. It aligns well with our business ideology and sets the tone as we execute on our goals in a structured and elegant manner.
14. What do you do for lunch?
I typically try to eat with colleagues during lunch and always enjoy when I'm at our new headquarters in New Jersey because the cafeteria is awesome – they serve foods from all over the world every day.
15. Do you socialise with work colleagues?
Yes, socialising is a core part of trust building, especially since we are a diverse team. I find every opportunity to get to know all my colleagues better.
16. Are there any tasks (through your career) you've been especially glad to get rid of?
This is an easy one. Filing expense reports! Fortunately, one of the benefits of the cloud and some of the SaaS solutions makes most of this is automated now.
17. What is your last task of your day?
Saying my gratitude for a productive day and closing my laptop.
18. How do you like to relax after work?
Outside of work, I like to spend time with my kids. I love little opportunities to guide them on their projects. I enjoy hiking and biking. I also read a lot.
19. Do you keep checking email through the evening?
I check my emails as long as I am working. Off hours, I am available to handle any critical issues. Growing a business may require instant decision making at certain times, so in these situations, I ensure I am connected and in the loop.
20. Do you take work projects home with you?
As the need arises, I work on projects at home. Growing a business is like raising a child. There are no days and hours off, it requires passion and time investment.
21. What would you say to your 20-year old self?
Never give up on your ideas or your ideals. You will have plenty of opportunities to blend them both.
22. If you could try out any job for a day, what would you choose?
I would like to swap roles with my wife for a day who balances three kids, a full-time job and volunteer work.
23. What device did you use to answer these questions?
I used my company issued HP Elitebook 970m with Intel i7 processor and 16 GB of RAM, running Windows 7.
24. Do you use your own personal device for work?
Yes, I use my personal phone for work related calls.