Internet
Crowdsourcing Innovation: Kallidil Kalidasan, MindHelix Inc.
Crowdfunding sites are offering a new path for inventors with original ideas. We talk to inventors looking to gain the public's favour...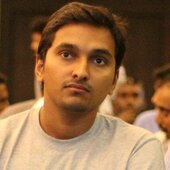 Name: Kallidil Kalidasan
Job title: CEO
Organisation: MindHelix, Inc
Location: San Francisco, US

Product: Rico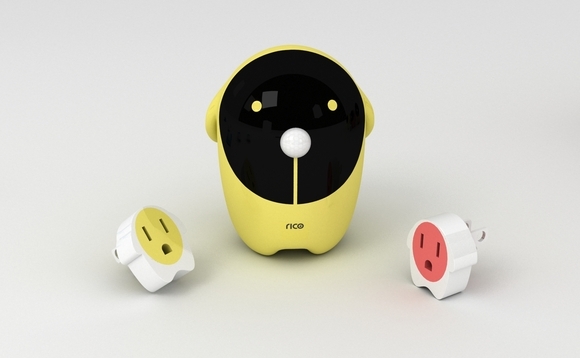 What it does & how it works:
Rico turns your used smartphone into a smarthome security device. We took away the clutter of heavy and expensive home security hardware and replaced them with an old smartphone. All you need to do is install an App into your old smartphone, insert it into Rico, and your smarthome security companion is ready.
What makes it special?
The idea of powering a smarthome device using a used smartphone lets us cut down on heavy and expensive hardware that generally power the traditional smarthome devices and sensor boxes like Canary or Piper. This drastically cuts costs, making Rico available for $99 which could make it the most affordable smarthome security solution available on the market.
What's your background, and what inspired you to come up with the idea?
We found that a lot of DIY blogs and community are building such solutions for themselves, but there was nothing that was well packaged enough for consumers to buy off the shelf and use. So we built a product on top of the idea and positioned it as an easy to install solution. We expect this strategy to pay off because consumers already understand how to set up a smartphone (installing an App etc.) and that's all it takes to setup Rico - knowing how to install an App.
Why Kickstarter?
Kickstarter is by far the biggest crowdfunding platform out there, so we were focused on learning how campaigns on Kickstarter work and what kind of backers were involved, since we were looking at backers who already knew what smarthome devices were available in the market and many such devices have already been funded through Kickstarter.
Is Crowdfunding good for innovation? How so?
Crowdfunding is the easiest way for a startup to connect with the audience he/she needs since product validation is the key when it comes to new products. A successful crowdfunding campaign is also a ticket to get meetings with potential investors or mentors as well since your product is now validated and the community values what you built much more than what it was before that.
Reactions on KS so far?
Rico has received incredible response from the Kickstarter community, a lot of our backers found the idea interesting and they wanted to be part of this project. We are also receiving lots of product suggestions from our backers right from colour suggestions to new features that would add more value to future customers.
What lessons have you learned from your campaign?
A good campaign is a campaign that has been planned well in advance. Also we think a good PR strategy needs to be in place before you launch so your campaign is seen by as many prospective backers as possible.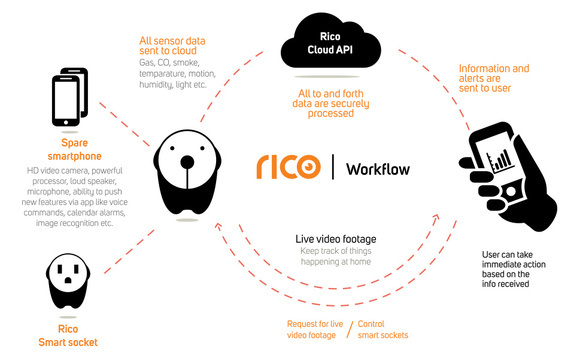 How many unused smartphones are there, and how damaging is it to the environment to have so many phones being wasted in people's homes?
For the average consumer, the shelf-life of a smartphone is 24 months. According to IDC, of the over 280 million smartphones that were sold last year, many will be replaced without being recycled. These phones are toxic to the environment, polluting the air and contaminating soil and water with metals and plastics. What's worse is that over 90% of these will be in perfect working order.
Since you're focused on letting people use old phones in Rico, does that make compatibility issues more difficult?
Not really, if you look at the smartphones that are two years old (which is when consumers buy newer ones), most of them get updates on their OS, which enables us to run Rico side app in these phones without much compatibility issues.
What are the most beneficial aspects of Smart home apps & devices such as Rico that people don't have already?
Smarthome devices are revolutionising the way we interact with our home and surroundings. Now, consumers can do simple tasks like switching ON/OFF your bed lamp to time-scheduling your coffee maker so it switches ON right when you wake up. Rico empowers consumers with the ability to control and monitor their homes at an affordable price by using something that they already have in their homes – a used smartphone.
Possible business use/advantage?
If you look at the technology, we could use the potential of a used smartphone anywhere, not just in smarthomes but everything from automotive to the multitude of IoT applications that have emerged.
Aims for the future?
We want to create a completely new cult of repurposing used smartphones where they could effectively be used to run everything around us. Used smartphones could power the next generation of IoT devices as well and with this fact, we want to create change that will affect 500 million used smartphones in the next two years.