Human Resources
C-suite career advice: Barbara Soltysinska, indaHash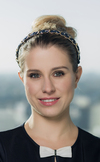 Name: Barbara Soltysinska
Company: indaHash
Job Title: Co-founder and CEO
Location: Global (HQ - Warsaw, Poland)
What was the most valuable piece of career advice that you received?
Expect the best, but be prepared for the worst. You have to be brave enough to ask yourself what the worst-case scenario is; and when you confront it, usually you find it's not that bad.
What was the worst piece of business advice that you received?
That success happens only once and you will only have one successful company. You need to respect and focus on good ideas at a good time but never assume this will be the last one.
What advice would you give to someone starting their career in the tech industry?
Be patient, be open to changing business models and learn to pivot when necessary. Often, things need time to settle into a rhythm and you need to make adjustments on the way - sometimes it's better to be open to trying new ways than to just give up and resign.
What tips would you give to someone aiming for a c-level position?
Manage people's strengths rather than looking at their weaknesses - no one is perfect and, for sure, no one will be exactly the same as you.
Are you particularly proud of any career advice that you've given or the career route/development of anyone you've mentored?
You can choose to win an argument or keep good relations. It's sometimes really difficult to have both - to be in the right or win negotiations and also keep a good relationship with the other side at the same time (whether it's with other companies, business-partners, co-workers or your loved ones). So always be consciously prepared to listen to an alternative point of view or to stand your ground when it's worth it. In other words, pick your fights carefully.