Handheld Devices
Gemini PDA: will professionals favour the scion of Psion?
UK startup Planet Computers caused a sensation at the recent Mobile World Congress show in Barcelona with the announcement that is bringing to market a spiritual successor to the iconic British Psion handheld computers of the 1990s, aiming to offer techies and mobile workers a device with a fully tactile keyboard for doing real work.
Known as the Gemini, the modern successor to the Psion heritage is a clamshell design that folds open to reveal a full QWERTY keyboard with sculpted key caps, reminiscent of the Psion Series 5. Also like the older models, the Gemini is small enough to fit into a jacket pocket when closed, making it a truly portable computer.
However, the similarities with Psion largely end there. Gemini will be a modern mobile device based on the Android platform, with a dual-boot Linux option for the techies that favour this. It will be available in two versions; one with 4G and WiFi wireless connectivity, and another with WiFi only, with a projected price of about $599 in the US.
Full specifications of the Gemini PDA can be found on Planet Computers website.
Cult of Psion
For those unfamiliar with the original Psion devices, they inspired the kind of devotion that sees some people still using them some 20 years after they were produced. At the time, they were the only pocket-sized devices that had a built-in word processor, spreadsheet and database worthy of the description, making them true pocket computers in comparison with rival devices that were little more than electronic organisers.
This time around, the PDA is facing competition from a mature smartphone market, dominated by Apple's iPhone and Samsung's Android-based Galaxy handsets, which both boast a diverse range of applications available for users.
But it is the form factor that Planet Computers believes is a key selling point for Gemini. Like the original Psion models, the clamshell design with keyboard makes it possible to use the device while cradling it in your hands, allowing you to get work done almost anywhere.
"For about three years I've been trying to get some support to bring back the keyboard-based mobile device, similar to the Psion," says Planet Computers CEO Janko Mrsic-Flogel. "I think this format has bizarrely disappeared, but at the same time I find it an extremely useful format in many, many situations where you have to create on the move."
Mrsic-Flogel's beef with available devices on the market will be familiar to many mobile professionals out there – the feeling that there ought to be something more convenient to carry around than a laptop, but which still enables you get some proper work done.
"With the advent of the tablet device and the smartphone device, what you are getting is basically just a touchscreen, which is not really conducive to quite a few things. It's great for consuming video or playing music, but when you try to create, it becomes very difficult," he comments.
Funding fathers
For this reason, Planet Computers set up a project on crowdfunding site Indiegogo with the goal of raising $200,000 in order to get the device into manufacturing. At the time of writing, backers had already pledged more than double that amount within a week. This means that funding is secure for the first batch of Gemini devices, which are expected to roll off the production line in November. These will be earmarked for the crowdfund backers, and other buyers may have to wait until next year for further production batches.
One potential cloud on the horizon for the Gemini is that crowdfunding does not necessarily guarantee the success of a project, even if it meets its funding target, according to Francisco Jeronimo, IDC Research Director for Mobile Devices in EMEA.
"I've seen so many devices that companies try to bring to market, and even if they raise the money they were looking for, it does not mean they are able to deliver it. That's the challenge for many players that are bringing new devices to market, because accessing the components, accessing the manufacturer to supply just a few thousand units, it's not an attractive proposition to many of the ODMs [original design manufacturers] in China," he explains.
Jeronimo is sceptical of the extent to which the Gemini will appeal to buyers, citing the relatively limited uptake of the recent BlackBerry smartphones that also combined the Android OS with a QWERTY keypad.
"There's a very small market for this kind of device. Everyone has got used to typing on a touch screen, and most users that really need a physical keyboard or a larger screen have a mini tablet plus an external keyboard," he adds.
Also, many mobile professionals already carry around a smartphone and a laptop, and Gemini's capabilities place it somewhere between the two. Can it persuade enough buyers to either carry a third device, or else to give up either the laptop or smartphone for a PDA?
Nevertheless, he conceded that there could be a profitable niche market for a device such as Gemini, if they can find the right mix of capabilities to attract the right audience.
"If their ambition is to sell in the millions, there is no way they will be able to do it, but if they are looking for a niche segment where they can sell a few thousand and make good money on it, then I think it's a good proposal. Many users will buy the device and find it cool and use it, especially IT professionals, but this is not a proposition to the mass market," he says.
Targeting professionals and creatives
In contrast, Mrsic-Flogel believes that there is a potential market for up to 10 million units per year of the Gemini; this is tiny in comparison to the number of smartphones sold worldwide annually, but still ambitious.
He sees the target market for the device as being creatives – bloggers, people writing articles and tweets, and also the professional market, including people who need to write and edit documents and spreadsheets, not to mention those who field a lot of emails while on the move.
Then there is a niche market in the shape of the techie community, who may be drawn to the Linux option for the Gemini, especially IT professionals who would be able to use the device to administer Linux-based infrastructure.
Planet Computers has yet to settle on which Linux distribution to support, but is considering various flavours of Ubuntu, among others. It plans to support dual-boot capability by adding an applet to both the Android and Linux environments that configures the Gemini to boot into the other platform the next time it is powered on, Dr Mrsic-Flogel says.
On the Android side, the company is favouring a standard build of Google's operating system, meaning that users will be able to upgrade painlessly. It also means that users will have access to the Google Play store, possibly the most key feature of Android, since this is where users can explore the wealth of third-party apps available.
As the available apps on Google Play include Microsoft's Office Mobile suite, comprising Android versions of Word, Excel PowerPoint, and Outlook, it is easy to see how the Gemini could potentially become a pocket-sized alternative to a laptop.
All of this means that Planet Computers is setting itself a high bar in terms of end user expectations, but the company has some important key people on board, such as Martin Riddiford, the industrial design specialist who was instrumental in the design of the Psion PDAs, and apparently has the approval of Psion founder David Potter and former managing director Colly Myers.
Riddiford's role has been to produce a design as good as the Psion Series 5, which was highly praised for its keyboard and the way in which the device opened up to somehow appear larger on the inside than you would have expected from observing the closed device.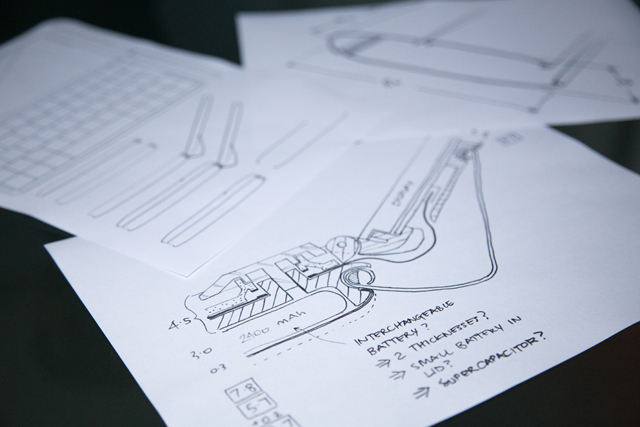 "The Gemini has been designed in such a way that when it opens, the metal cover extends out, and the hinge mechanism actually forms a support to the device, so you can actually use it on the table, with the support tilting it at a particular angle so that you can see the screen nicely and you can type nicely," Mrsic-Flogel says.
One of the design goals has been to try and avoid any of the issues that plagued the old Psion models, such as the hinge mechanism wearing out or failure of the flexi cable connecting the display.
"There's a flexi cable that goes between the keyboard in the base and the main board behind the screen, and that should not be breaking. That mustn't fail, so we just have to make that very good," Mrsic-Flogel says. "There's enough knowledge in the team to understand the issues and to try to pre-empt some of those issues that might hit the project later."
Another focus has been battery life, and here the Gemini is intended to have an 8000mAh lithium ion pack, which is more than double the capacity of the typical smartphone. Also, the fact that it is removable holds out the possibility of users being able to carry a fully-charged spare to extend their working time away from mains power.
All of this means that the Gemini is shaping up to be the nearest thing to a modern-day Psion PDA that you can realistically hope for. The fact that the project surpassed its crowdfunding target within days shows that there is demand for such a device, although whether there is a market for the millions of units that Planet Computers hopes to sell remains to be seen.
Also read:
Is the beloved Psion PDA due a revival?
My life using a Psion PDA in the 21st century
Alex Cruickshank's New Year resolutions
Sinclair's Black Watch was the Apple Watch of its day
Can Clive Sinclair's nephew add a page to computer history?