Wireless Technologies
C-Suite Talk Fav Tech: Szymon Chodkowski, Outbox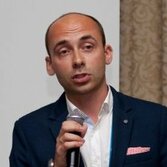 Name: Szymon Chodkowski
Job title: CMO
Company: Outbox
Industry: IT consultancy
Location: Warszawa (Warsaw), Poland
Years' of experience: Over 12 years
What is your favourite personal gadget?
I would say the iPhone6 is my favourite gadget at the moment, I am impressed with its intuitive user interface and the speed of my applications. Also I am looking into buying a Fitbit to help meet my fitness goals.
Do you have a favourite piece of personal software?
Spotify has a fantastic weekly feature that allows me to explore new music, it becomes sort of addictive as you explore new music from a mixture of artists.
What was the first piece of technology you got really excited about?
We built a live-streaming platform back in 2007, which I got really excited [about] as it was our own piece of software that we were building.
What device improves your life most at work?
My iPhone6 as it is my PDA and I am able to load a mixture of personal/work related applications on it.
What software keeps you most productive at work?
I am a multi-tasker so I use the capabilities of Salesforce, Gmail, Evernote & Slack to complete my work. Using a mixture of technology allows me to complete a varied amount of tasks and stay on top of everything.
Is there any technology that has become extinct that you would like to resurrect?
I think technologies don't become extinct, they only evolve and are just waiting to be shaped by new innovative ideas. Adapting previous software or changing it enables us to do tasks faster, and concentrate on more creative tasks.
Is there any technology you would personally recommend that you don't think enough people know about? (Hardware or software, work or personal)
I would say Bash terminal, a Unix shell and command language. I think in general we 'business' people could use some coding lessons, that is why I'm also a big fan of codecademy.com. IFTT is a great and fun way to automate everyday life processes.
Do you think anything about your personal use of tech would surprise your colleagues?
I like to have things organised, so some would be surprised why I switch between spaces in OsX and apps in iOS. Also a couple of years ago I used to organise my apps into four folders and nothing on the main screen. This seemed organised at the time, but took me a lot of time to scroll through each folder.